Hostile $38.6 billion bid for fertilizer maker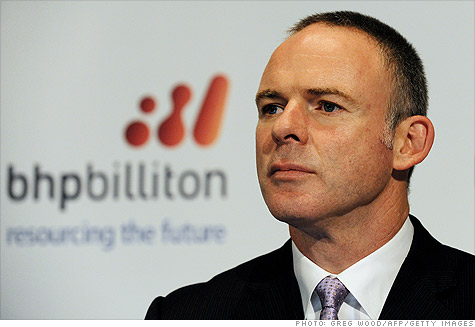 NEW YORK (CNNMoney.com) -- Mining giant BHP Billiton said Wednesday that it would take its $38.6 billion cash offer for Potash Corp. directly to the shareholders, a day after the world's largest fertilizer producer rejected unsolicited takeover bid.
The Australian company's offer remains valued at $130-per-share offer, representing a 16% premium to Monday's closing price.
"We firmly believe that Potash Corp. shareholders will find the certainty of a cash offer, at a premium of 32% to the 30-trading day period average, very attractive, and we have therefore decided to make this offer directly to those shareholders," said BHP chairman Jac Nasser in a statement.
Shares of Potash (POT), which spiked almost 28% Tuesday following the rejection, gained 3% Wednesday.
Meanwhile, BHP's (BHP) stock, which slipped 2.4% Tuesday, lost another 3% Wednesday.