3,700 Zooper strollers recalled for latch failure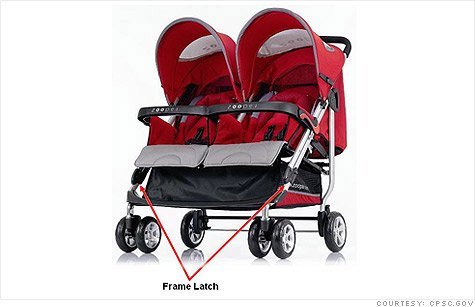 (CNNMoney.com) -- About 3,700 Zooper strollers have been recalled for a frame latch failure that can result in the high-end stroller unexpectedly collapsing, federal safety officials announced on Thursday.
The Zooper Tango double strollers were sold in 2007 and 2008 at retailers including Babies "R" Us, and cost between $400 and $430.
Lan Enterprises, the manufacturer of the stroller, has received 185 reports of the problem, according to the U.S. Consumer Product Safety Commission. In one incident, a 13-month-old boy and a 3-year-old boy received scrapes and bruises when their stroller hit a sidewalk curb and then collapsed.
When the frame latch comes undone, "the stroller basically just collapses on your children," CPSC spokeswoman Patty Davis told CNN.
The CPSC said owners of the SL808B and SL808F models should stop using the strollers and contact Zooper USA or visit its website, zooper.com, for a repair kit.
The repair kit contains straps, which can be attached around the frame latch, to keep it from coming undone.