America's favorite credit card: AmEx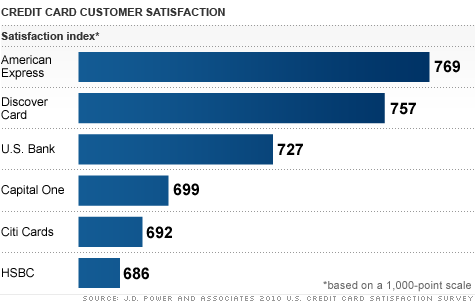 NEW YORK (CNNMoney.com) -- American Express is the credit card issuer of choice for the fourth year in a row, a report released Thursday showed.
Based on a 1,000-point scale, AmEx received a customer satisfaction rating of 769, which was 55 points higher than the industry average, according to a survey conducted in March and April by information services provider J.D. Power and Associates.
"They have a strong awareness among customers of the benefits and rewards of having that card," said Michael Beird, director of banking services at J.D. Power. While other issuers might offer similar rewards, AmEx uses aggressive marketing and communication to get the message across, he said.
Discover Card was the second highest rated issuer, with a score of 757. Customers were especially happy with its customer service and the ease of navigation on its site. U.S. Bank followed as the third highest ranked company with 727 points, as customers reported fewer changes to terms and smaller interest rate increases.
The lowest ranked issuer this year was HSBC, with 686 points, followed by Citi Cards and Capital One, with scores of 692 and 699 respectively.
"The folks who typically rank at the bottom have more of the riskier customers," said Beird. "Many of the customers who have lower credit scores end up paying higher fees, which means they might be complaining more."
The least-satisfying issuers were also given lower ratings because of poor communication -- failing to help many customers understand their credit card terms, he said.
But overall, the survey showed that customers are happier with their credit card issuers this year, and customer satisfaction rose 9 points, to 714 from a 3-year low of 705 in 2009.
"There has been higher satisfaction with credit card terms, a reduction in complaints about payment or billing problems, and issuers seem to be doing a better job interacting with customers," said Beird.
Another driver of satisfaction has been the CARD Act rule rolled out this year requiring issuers to warn customers in advance of any changes to their accounts, said Beird.
But aside from knowing when issuers are going to raise interest rates or make account changes, customers are still foggy about how many of the other new rules will affect them.
"The communication aspect of the CARD Act -- requiring issuers to inform customers in advance of changes -- is really the only part that has been seen immediately," said Beird. "It's too early to tell what the impact of some of the other rules will be."
This uncertainty came across in the survey, with 16% of customers saying they hadn't even received CARD Act disclosures and of those who did, only two-thirds said the information helped them understand what all the changes would mean for them.
Customers also said they are more optimistic about the economy and their own financial situations this year, according to the survey. This increase in confidence has made customers increasingly likely to shop around for a new bank, said Beird.
As a result, customers are more likely to dump their banks. The number of cardholders who say they "definitely will not switch" primary cards in the next 12 months fell to 22% from 25% last year and 30% in 2008.
"Even though overall satisfaction has improved, customers are feeling more empowered to explore other providers, since their outlook on the economy and their own personal finance has gone up," said Beird.