Hipmunk's dazzling new view of flight search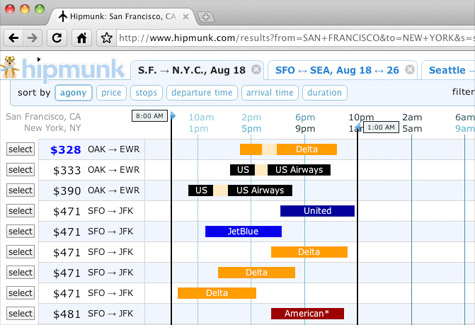 NEW YORK (CNNMoney.com) -- Adam Goldstein was a whiz-kid MIT engineering student with an enviable network of tech contacts and a decade of industry experience. He also had a lofty dream: To reinvent Internet flight search.
So he called up his old friend, Reddit co-founder Steve Huffman, and embarked on a summer project. It culminated in this week's launch of Hipmunk, which drew instant acclaim for its new approach to an old but still daunting search challenge: matching travel shoppers with flights. Hipmunk arranges flights on a colorful, user-friendly grid, letting browsers evaluate their options in a blink.
Just days old, the site is already winning rave reviews. "When you see the results you'll never want to see flight results in any other format," TechCrunch gushed. "It's one of those 'that's so obvious why didn't I think of that' moments."
Lifehacker calls the site "fantastic" and praised its visual innovation.
"We spent a disproportionate amount of time on building that interface," says Goldstein, who graduated from MIT this spring. "Helping users find the right flight in the least amount of time is what informs every decision."
Hipmunk cuts the clutter, displaying all flight options on one screen. Prices show on the grid's vertical axis, with departure times on the horizontal axis. Airlines are color-coded -- JetBlue (JBLU) flights in blue, Delta (DAL, Fortune 500) in orange, and so on -- allowing searchers to zoom straight in on their favorites.
From there, browsers can sort by factors including price, flight length, and the number of stops. The aptly named "agony" button is a one-click combination of all three. Users can search in multiple tabs, filter out flights that depart too early or late, and share links to their searches with friends.
The road to reinventing flight search
Goldstein met David Pogue, the New York Times tech reviewer, at a book signing in 2003. The 14-year-old Goldstein was already an adept programmer, and he stayed behind to chat with Pogue. Soon after, he became a technical editor on one of Pogue's books.
In 2005 he penned his own book for one of Pogue's series, called AppleScript: The Missing Manual. It was Goldstein's ticket into the tech world, and he soon found himself in business with the editor-in-chief of Wired to create the website BookTour.
As for Hipmunk, Goldstein and his longtime friend Huffman hatched the idea this summer at the San Francisco apartment building they share. Huffman -- who sold his social news startup Reddit to Conde Nast in 2005 for an undisclosed sum -- lives upstairs with his wife, while Goldstein lives one floor below.
The pair met with several flight booking sites and eventually settled on a deal with aggregator Orbitz (OWW). For now, all flights found on Hipmunk are booked on Orbitz. While Goldstein won't reveal the details, "when Orbitz makes money from us, we make money from them," he says.
With the Orbitz deal set and site built entirely by the two developers, all they needed was a name. Goldstein's girlfriend stepped up to the challenge.
"She said, 'If you pick a small, cute animal and a good logo you'll never go wrong,'" Goldstein says.
Hipmunk's flight-goggled chipmunk mascot has the same "awww" factor as Twitter's iconic bluebird. With that, Hipmunk was born.
But Goldstein knows his work isn't done: "Some things are lacking, even compared to our competitors," he admits. "We have steps to take before we become the go-to site."
Hipmunk doesn't currently support multi-city search. Some commenters on the Hipmunk blog have complained that the site's international flight search is weak. And, of course, Orbitz supplies all the flight data.
Hipmunk has received small investments from two venture-capital firms that focus on startups: Ron Conway's SV Angel and Y Combinator. Goldstein won't confirm how much Hipmunk took from each company, but he says TechCrunch's report that Y Combinator put up $15,000 is incorrect.
"We haven't fully decided on a long-term plan for monetizing," Goldstein says. "We know we don't want to have ads or spam people. There isn't a ton of money in just flight data, which is why a lot of sites expand into hotel and package search."
No matter how Hipmunk evolves, Goldstein says clarity for consumers will be the core mission. He's confident a user-friendly site can win in a crowded field that includes Orbitz, Expedia, Travelocity and Kayak.
And his ambitions aren't limited to travel: There's other interfaces Goldstein would like to reimagine.
"It's not in our immediate plans, but we work day by day," Goldstein says. "Just because it's not on the list now doesn't mean it won't be tomorrow."