Intel's McAfee buy is a Buffett-like play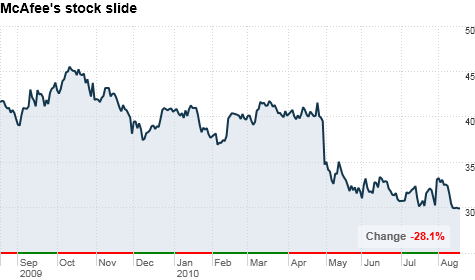 NEW YORK (CNNMoney.com) -- Intel's $7.7 billion purchase of security company McAfee makes plenty of financial sense, but it's a head-scratcher from a technology standpoint.
The deal seemed to come out of the blue: Intel is the world's largest chipmaker, so a security software company wouldn't seem to be a good fit for the hardware-focused vendor. Intel has previously stated that security is one of its top priorities as it tries to get its processors into every type of connected device. But existing relationships with security companies, including McAfee, appeared to many analysts to be sufficient for Intel to execute on its technology goals.
"I'm not quite sure why they bought this company," said Steve Kleynhans, microprocessors analyst at Gartner. "The purchase plays to all of Intel's initiatives, but the question remains: Did it have to buy a company to do that?"
A call between Intel executives and investors Thursday morning did little to answer that question. Intel's leaders went buzzword crazy in describing the deal, saying over and over that the McAfee purchase offered "deeper collaboration and integration between hardware and software," "substantial differentiation for our products and platforms," and "enhanced security products."
But Intel CEO Paul Otellini offered up one buzz phrase that actually means something to the company right now: "Value for Intel shareholders."
Intel has $17.8 billion cash on hand, which is just sitting there, earning very little for the company's shareholders.
So what to do with that cash? Intel could increase its dividend, but there's only so much it wants to give away. It could invest in the businesses it already owns, but the company was recently downgraded by analysts because of slowing demand for personal computers -- a problem that cuts right to the core of Intel's business model.
Alternatively, Intel could buy a company that it thinks will generate income for its investors. As Berkshire Hathaway CEO Warren Buffett said about his surprise move to acquire the Burlington Northern railroad company last year, it was an opportunity to deploy "cash in a business we understood and liked for the long term."
The question is: Did Intel make the right deal?
Many analysts expressed concern that Intel paid a 60% premium over McAfee's closing share price on Wednesday, which is expensive by most standards. But others noted that the return on Intel's investment will likely far exceed what it paid for the security company.
"Everyone's focusing on how expensive it was, but with this deal, Intel's cash flow is growing, its balance sheet stays clean, and the capital is at a very low cost," said Ken Hackel, president of CreditTrends.com and author of Security Valuation and Risk Analysis. "This gives Intel a positive spread over what it'd earn ordinarily by investing in the slowing PC market or holding onto its cash."
Hackel estimated that Intel's total cost of capital on the McAfee purchase would be about 4%, but the cash return on its invested capital would probably be around 8%.
Software in general is a much higher-margin business than hardware, and McAfee is no exception, with a gross margin near 75%. Intel's is around 55%.
So if it's going to go after a security company, Intel likely picked up the best one it could get. Symantec has a larger share of the market than McAfee, but Symantec (SYMC, Fortune 500) is a significantly larger company and would be harder for Intel to integrate. Trend Micro was another option, but its market share is slipping. Other players' offerings are mostly tailored for large corporate customers.
"McAfee was the right one to buy," said James Ragan, an analyst at Crowell, Weedon & Co. "It competes very well with Symantec, and it gives them a big company that's not too big and has a strong mix of corporate and consumer offerings."
But some analysts who praised the move from a financial standpoint criticized it from a 30,000-foot view.
Intel will have to figure out how to integrate a big software company into its hardware business -- and it will have to address the concerns of its existing clients who use products made by McAfee competitors.
"I would highly suspect that the cost of capital is one of the reasons for this acquisition," said Erik Suppiger, a senior research analyst at Signal Hill Capital. "But it's not a good business decision if it's not going to execute well."
Shares of McAfee (MFE) soared 57% on Thursday, while Intel's (INTC, Fortune 500) fell more than 3%.