'Historically bad week' for oil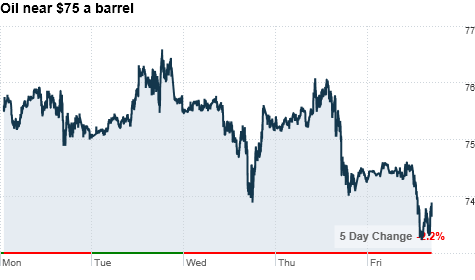 NEW YORK (CNNMoney.com) -- It's been a dismal week for the economy all around, with an abundance of gloomy data pummeling recovery hopes. The oil market felt the brunt of the blows.
Crude prices struggled to hold above $75 a barrel this week, after reports showed jobless claims shot up to 500,000 last week. Additionally, a glut of oil supplies topped the highest figures on record.
"This really is a historically bad week for the oil market," said Phil Flynn, a senior market analyst with PFG Best.
Prices had briefly broken the $80 mark earlier this month, but they began falling last week and fell further this week. Prices settled at $73.46 a barrel Friday. Earlier in the week, the Energy Information Administration said supplies rose to 1.13 billion barrels last week.
"There's no other way to cut it: We have too much oil in this country," Flynn said. "[The oversupply is] a terrible sign for prices, at a time when investors are already shaky."
In fact, the inventory report may have pushed prices even lower, "if the market weren't already oversupplied across the globe," Flynn said.
Dismal data: Oil supplies were inflated partially because "we thought we would need it as demand rebounded," Flynn said. "But now people are concerned about an expanded recession, and it doesn't look like the supply/demand ratio will even out anytime soon."
While economic data had already been downbeat in recent months, this week's reports were especially troubling. The government's jobless claims report showed the number of first-time filers last week rose to a nine-month high. Analysts said the 500,000 mark will be difficult for the labor market to overcome -- both psychologically and somewhat technically.
The Philly Fed index showed manufacturing activity shrank in August, sparking fears of continued oversupply.
"Even the somewhat bright spot in manufacturing has now been tarnished," Flynn said. "Coupled with the jobless claims, we have awful reports coming from the two sectors oil traders look to."
Outlook: "We're going into the weakest demand season of the year, and it's hard to find too many things to get bullish about," Flynn said.
Oil prices could soon hit a new low for 2010, he said, falling below the current bottom of $64.24 a barrel.