The Big SUV's death rattle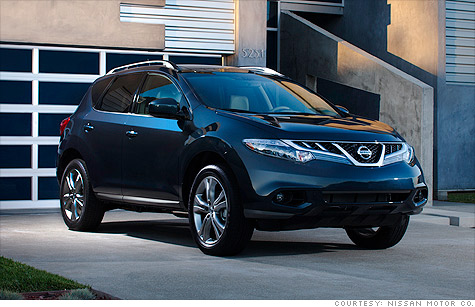 FORTUNE -- Looking for bright spots in auto sales so far in 2010 is like hunting for diamonds in a parking lot at Wal-Mart. You are hard pressed to find anything, and when you do, you have to examine it closely to determine its actual worth.
Some analysts have seized on a zircon they may be mistaking for a diamond: the surge in sales of big SUVs. According to Dave Cutting of JD Power, sales of large utilities like the Chevrolet Suburban have risen 22%, while large premium utilities, exemplified by Mercedes' GL 450, are up 21%.
That's in an overall market up only 15%.
The mini-boom in SUVs is thought to be a sign that one, like frogs in boiling water, Americans have become accustomed to higher gasoline prices, and two, they won't give up their oversize vehicles until someone pries their cold dead hands off the steering wheel.
In reality, the phenomenon may be nothing more than a death rattle. Customers are hurrying to buy SUVs before they become extinct.
"With the exception of the new Jeep Grand Cherokee, no real SUVs are being introduced anymore," says Jeremy Anwyl, CEO of Edmunds. Com. "Today, the ideal utility vehicle looks like it can climb Mount Everest but rides around town efficiently and smoothly."
In other words, it isn't an SUV but a crossover.
Crossovers combine the design features of SUVs like an upright stance, command seating position, high ground clearance, and all-wheel drive with passenger car characteristics such as a comfortable ride, easy handling, and decent fuel economy.
Starting from nothing 15 years ago, sales of crossovers passed those of traditional SUVs in 2006 and have kept on growing. They now exceed two million. Traditional SUVs, meanwhile, peaked in 2002 around three million, and now account for less than one million sales. So far in 2010, crossover sales have leapt ahead 24%, and crossovers now account for 23.7% of the market -- nearly a quarter of it.
Manufacturers keep adding crossovers to their lineups and they come in all sizes -- small, medium, large -- and soon a convertible. Nissan is scheduled to offer a droptop version of its popular Murano crossover in 2011. Honda CR-V, which pioneered the crossover category leads the compact segment, has sold 106,928 units so far this year. But it gets strong competition from Toyota's (TM) RAV4 and the Ford Escape. Among mid-size to large crossovers, there is a tight four-way race going on among the Chevy Traverse, Honda Pilot, Ford Edge, and Kia Sorrento.
Some crossovers, like the Audi Allroad and Toyota Venza reflect a station-wagon ancestry. "Most consumers in this space want the look of the SUV but the driveability and efficiency of a station wagon," says Anwyl. The wagon look isn't very popular these days, which explains why Subaru raised the roof of its popular Outback to make it more SUV-like. But Anwyl likes the utility that wagons offer. "Our team believes the Cadillac CTS wagon is a far better vehicle than the SRX crossover, but people are choosing the crossover even when the wagon makes more sense."
As manufacturers discontinue old-style SUVs, they're moving their nameplates to crossovers. The next Chevy Tahoe is going to be built on the Traverse crossover platform, not the Silverado truck platform. And the 2011 Ford Explorer moves from the Ranger truck platform to the Taurus car platform. Equipped with Ford's (F, Fortune 500) turbocharged four-cylinder engine, it is expected to get 30% better fuel economy -- 19 miles per gallon city versus 13 mpg for the V-6 equipped 2010 model.
At its best, the auto industry is Darwinistic, with the new and improved driving out the old and outmoded, and the change from SUVs to crossovers is a prime example of how it evolves.
The crossover offers improved flexibility and utility without the penalties of fuel economy and comfort. It will be interesting to see how it mutates. The convertible Murano may be only the first step.