Brokers could face fines over 'flash crash'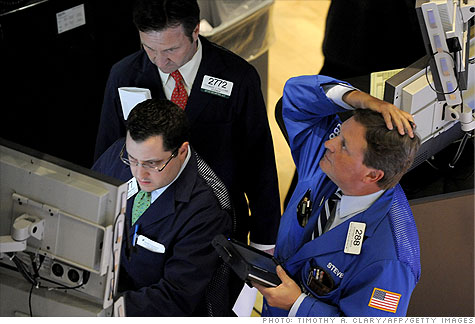 NEW YORK (CNNMoney.com) -- Brokers who may have had a role in May's devastating "flash crash" could face fines from the Financial Industry Regulatory Authority, said the industry group on Monday.
Finra spokeswoman Nancy Condon confirmed that brokers who gave high-frequency traders access to the markets without properly vetting them could face fines.
Condon declined to comment on how big these fines would be, saying that would be "putting the cart before the horse."
The potential fines from Finra stem from the inexplicably wild market swings on May 6. On that day, the Dow Jones industrial average took a brief but historic plunge of 1,000 points, losing about $1 trillion in value, before rebounding within minutes.
The cause of the so-called flash crash was initially blamed on a trader's "fat finger" that caused the E-mini S&P futures price to fall more than 5% in a few minutes. But this was never confirmed, and the catalyst for the crash is still under investigation.
A House Financial Services subcommittee is investigating the cause of the crash. A few days after the plunge occurred, Mary Schapiro, chairwoman of the Securities and Exchange Commission, dismissed the "fat finger" theory. Instead, she said that out-of-control computerized robo-trading might be to blame.
Finra, together with the SEC and representatives from the six main stock exchanges, agreed to a set of guidelines that will halt trading in the event of future large market swings.
Len Blum, managing partner at Westwood Capital LLC, offered regulatory advice that mirrored the "simplify, simplify" mantra of Henry David Thoreau.
"Things need to be a lot simpler," Blum said. "When you have different rules on different exchanges, or when you have exchanges that are way too complicated for the normal human being to understand, you're bound to fail."