Egg recall is a golden opportunity to whip food safety into shape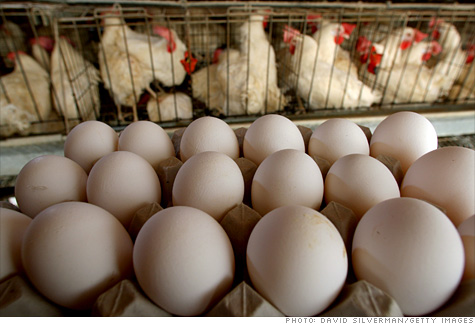 FORTUNE -- More than 500 million eggs have been recalled in recent weeks because of salmonella poisoning, an outbreak that originated at a pair of Iowa farms and has spread to at least ten states. Nearly 2000 people reported that they got sick from the bacteria between May and July. Experts say the outbreak is a national crisis-but it could also be a boon for advocates of a food safety bill that's slated for a probable Senate vote in September.
For supporters of the FDA Food Safety Modernization Act, the timing of the salmonella outbreak is uncanny. Though a similar bill passed in the House last year, the Senate bill languished until a bipartisan group released a compromise amendment on August 12-the day before Wright County Egg announced the first recall.
What regulators need are, "more tools, and probably better tools, to prevent these events from happening," says Craig Hedburg, a professor at the University of Minnesota School of Public Health, who thinks the legislation would provide just that.
The bill, expected to cost $1.4 billion over five years, represents a significant overhaul of the food regulatory system, a complex network of federal, state, and local public health agencies. It would grant the Food and Drug Administration the power to issue recalls (currently, the agency can only ask companies to pull food products), increase the frequency of factory inspections, and work to improve surveillance so that outbreaks can be traced to their sources faster. It would also boost restrictions on imported food.
Some of those proposed changes couldn't have averted the current recall. Until recently shell eggs fell under the jurisdiction of the USDA, which isn't affected by the bill (new rules implemented on July 9 also granted the FDA inspection rights). But while the new bill doesn't directly affect the USDA, says Hedburg, it would ultimately impact all agencies. "Even though it deals primarily with the FDA, it will undoubtedly help drive changes in the overall food safety system that will also have some impact on how the USDA does business," he says.
The lag between problem and recall: "months"
The section of the bill that calls for increased surveillance may be the most pertinent to the current salmonella outbreak. Bill Marler, a Seattle attorney who specializes in taking on food recall cases (including the current egg outbreak), thinks that particular proposal, which calls on the Department of Health and Human Services to establish a pilot project to improve tracking methods and enhance surveillance systems, could have helped regulators catch the outbreak much earlier.
"There's no question in my mind that, if there was more communication and coordination going on between health departments, this thing would have been figured out months ago," says Marler.
Though the salmonella outbreak began in May, the first egg recall didn't occur until mid-August. Such delays are common, says Marler. "If you look back historically at every major food-borne illness outbreak, by the time the CDC or state or local health departments are announcing an outbreak that's nationwide in scope, the outbreak is usually over," he says.
For a food producer or retailer, the length of an outbreak is generally proportionate to financial loss, regardless of who is actually behind the crisis. Take, for example, the enormous peanut recall of 2009. Though Peanut Corporation of America was responsible for the salmonella contamination that led to nine deaths, hundreds of companies including Kellogg's (K, Fortune 500), which made snacks using the tainted nuts, suffered. Kellogg's took a $34 million hit in its 2008 earnings. The company recently recalled 28 million boxes of cereal due to a bad smell from the packaging, which it says will cost $65 to $70 million.
"If one company or product has a problem, it's bad news for the entire industry," says Paul Hall, owner of AIV Microbiology & Food Safety Consultants and the former global chief food safety officer at Kraft (KFT, Fortune 500). During the peanut recall, J.M. Smucker's (SJM) Jif brand was never contaminated, but its sales dipped anyway. According to the company, industry-wide peanut butter sales volume declined 22% in the beginning of 2009.
It's too early in the egg recall to determine its effect on the industry, says Farha Aslam, an analyst at Stephens. "Demand should recover quickly, unless we have new revelations," she says. For now, Aslam expects demand to soften for just a few weeks -- but if more eggs are recalled, consumers could shy away from them altogether for months.
That scenario is one reason why big companies are throwing their weight behind the food safety bill. Trade associations for snack makers, restaurants, and produce companies have partnered with consumer groups to support the new Senate amendment. "The tools that the FDA has at its disposal have not kept pace with the complexity of our food system," says Scott Faber of the Grocery Manufacturers Association, which counts food giants PepsiCo (PEP, Fortune 500), ConAgra (CAG, Fortune 500), and General Mills (GIS, Fortune 500) amongst its members.
Leave out the little guys?
It's also possible that huge corporations may be tired of suffering from problems caused by smaller farms and food processors like Wright County Egg and Hillandale Farms, which produce just a fraction of the country's egg supply. "Every company, regardless of size, should be meeting the same high standards," says Faber.
Some small business owners, however, see those "smaller" companies as part of the big agribusiness machine -- and argue that the bill could impose costly regulations on tiny jam makers and apple farms. "The standards could become something that could become impossible for these farms to function under," says Judith McGeary, executive director of the Farm and Ranch Freedom Alliance. McGeary, along with other small business groups, supports an amendment proposed by Sen. Jon Tester (D-Mon.) that would limit regulations for companies making less than $500,000 a year.
Marler points out that farms and ranches that sell directly to consumers or retailers are exempt from many of the bill's provisions. McGeary counters, however, that many of those clauses are still vague. "We're having to fight for an exemption," she says. "These small scale local food producers shouldn't have been in the bill in the first place."