Plunging home sales could sink recovery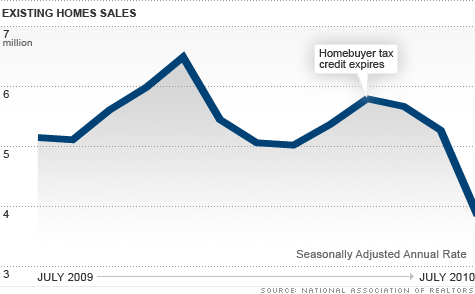 NEW YORK (CNNMoney.com) -- With home sales plunging to their lowest level in 15 years, economists warn that a double-dip in housing prices is just around the corner, threatening to further slow the overall recovery.
Existing home sales sank 27.2% in July, twice as much as analysts expected, to a seasonally adjusted annual rate of 3.83 million units. Much of that drop is attributed to the end of the $8,000 homebuyer tax credit.
That credit brought buyers out in droves, as they tried to sign home contracts before the April 30 deadline. Now, two months later, sales are 34% below April's tax incentive-induced peak.
"Home sales were eye-wateringly weak in July," said economist Paul Dales of Capital Economics. "It is becoming abundantly clear that the housing market is undermining the already faltering wider economic recovery. With an increasingly inevitable double-dip in housing prices yet to come, things could get a lot worse."
The sales pace of all homes -- single-family homes, townhomes, condominiums and co-ops -- is at the lowest since NAR began tracking the figure in 1999. Sales of single-family homes, which account for a bulk of the transactions, are at the lowest level since May 1995.
Inventory has also continued to climb, rising 2.5% to 3.98 million existing homes for sale. That represents a 12.5-month supply at the current sales pace, the highest since October 1982 when it stood at 13.8 months. A six-month of supply is considered normal.
The combination of weak demand and glut of homes has put downward pressure on prices.
And as the recession proved, the housing market and the broader economy are closely intertwined. When housing prices collapse, so does the overall wealth and confidence of Americans.
"Falling housing prices strain the overall confidence in the economy and discourage Americans from spending," Dales said. "They also mean that banks lose money on their investments and curtail lending, meaning there is less money out there to invest and boost the economy.
The NAR report showed that the median price of homes sold in July was $182,600, up 0.7% from a year ago. Just under a third of homes sold during the month were distressed properties.
Though prices have yet to fall back, Dales expects they will decline about 5% from current levels over the next six months.
On the bright side, Dales said while a drop prices will put a dent in the economy recovery, it won't lead to another recession.
"The bulk of the downward adjustment in housing prices has been achieved over the last several years, so we're not headed for a complete disaster," said Dales. "We're going to see a double-dip in housing prices, but not a double-dip in the overall economy."
Sales by property and region: Sales of single-family homes sank 27.1% in July compared to the prior month, while condominium and co-op sales tanked 28.1%.
The Midwest fared the worst last month, with sales dropping 35% to an annual pace of 800,000 units in July. that's 33.3% lower than a year earlier.
Resales in the Northwest dropped 29.5% from the previous month to an annual pace of 620,000 units.
They fell by 25% in the West and 22.6% in the South.