Ford Fiesta earns top safety award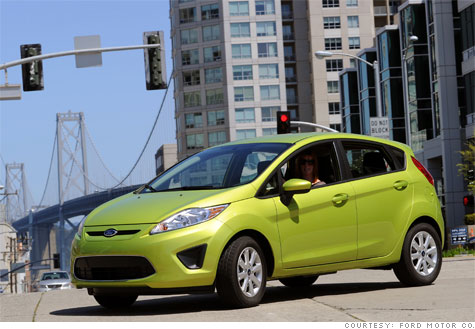 NEW YORK (CNNMoney.com) -- The new Ford Fiesta was chosen as a Top Safety Pick by the Insurance Institute for Highway Safety on Wednesday, becoming the first minicar to win the top rating since the group added a rollover test to its requirements.
Both the 2011 Fiesta sedan and hatchback versions received top ratings for front, side, rollover, and rear crash protection, the IIHS said. The car was also praised for having electronic stability control as standard equipment.
But the award only applies to Fiestas built after July 2010, when Ford made design changes to minimize the possibility of doors opening in side impact crashes, according to IIHS.
"Fiesta is proof that a small car can deliver big safety," Sue Cischke, Ford's vice president of sustainability, environment and safety engineering, said in a statement.
The Fiesta was the only minicar to receive a Good rating in the rollover test. To earn such a rating, which is the highest, the roof must be able to withstand five times the weight of the vehicle.
Most of the other minicars tested by IIHS were given an Acceptable rating for rollover safety. Among them were Toyota (TM) Yaris, Hyundai Accent, Kia Rio, Mini Cooper and Toyota Fit. The Chevrolet Aveo received a Marginal rating.
In addition to the Fiesta, seven other Ford automobiles have received a top safety award from IIHS, including the Fusion, Taurus and Flex.
Ford (F, Fortune 500) announced plans to reintroduce the Fiesta in the United States earlier this year as part of a plan to offer more small, fuel efficient cars. Along with the other major U.S. automakers, Ford sales have been slowly recovering after falling sharply during the Great Recession.
The 2011 Fiesta, with a base sticker price of $15,120, can travel an estimated 40 miles on one gallon of gasoline.
However, it remains to be seen how Fiesta sales will fare domestically.
More than 12 million Fiestas have been sold in Europe since it was introduced there in 1976. But the car was only sold in the U.S. market for a brief period between 1978 to 1980.