Housing's a wreck. Builders rally. Huh?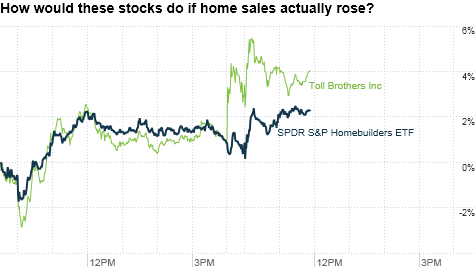 NEW YORK (CNNMoney.com) -- Stop me if you've heard this before. The housing market is still in shambles.
Existing home sales plummeted in July. New home sales sunk as well, hitting a record low. And even though luxury homebuilder Toll Brothers reported a surprise quarterly profit Wednesday, that was largely due to a tax break. Sales were down slightly from a year ago and orders dropped 16%.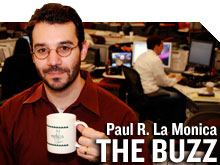 Despite this, some investors appear willing to once again bet that the housing market has hit bottom. Shares of Toll Brothers (TOL) were up more than 2% in early afternoon trading.
The S&P SPDR Homebuilders (XHB) exchange traded fund, which holds other builders such as KB Home (KBH) and Pulte (PHM), as well as building materials makers and home improvement retailers, rose 1.5%.
It's a strange reaction to say the least. The broad market is down because of more gloomy housing data. But the companies that are most directly tied to the health of the housing market are up?
It doesn't make a heck of a lot of sense. It may be a case of traders betting for the umpteenth time that this is finally a bottom for housing.
That's a mistake. Now that the tax credit for homebuyers has expired, it's difficult to imagine what can juice the real estate market again in the near-term.
"The sales numbers have been uniformly and strikingly bad and it's probably only a matter of time before prices start slipping again," said Zach Pandl, economist with Nomura Securities in New York. "It's clear that the housing recovery was dependent on government aid. Without that, a recovery is not going to continue."
Pandl argues that the Federal Reserve and Treasury need to do more to help the housing market, such as making financing easier and continuing to do what they can to keep interest rates low.
But Steven Kyle, professor of applied economics at Cornell University in Ithaca, N.Y., argued that already super-low mortgage rates aren't making much of a difference.
"The market has been propped up artificially. Interest rates are as low as you could want and we're still not off to the races," he said.
Kyle added that there's no reason to get excited about the prospects for housing until inventories decline further and home prices rise at a more steady, consistent rate.
So traders may be banking on the fact that the worst is really over for housing. But one fund manager who owns shares of Pulte said he's holding the stock for the long haul, not because he expects immediate improvement on the horizon.
"Investors may be factoring in a lot of the bad news into the stock prices of the builders but I don't think many people are looking for a turn in the market yet," said Craig Hodges, co-manager of the Hodges Pure Contrarian fund in Dallas. "Things will eventually get better but nobody knows when."
Still, even for a long-term housing bull, that lack of certainty is a big problem. Vicki Bryan, senior analyst who covers homebuilders for Gimme Credit LLC, a corporate bond research firm based in New York, said that people are clinging to the false hope that housing will improve before the economy.
But given the big glut of homes already out there and worries about more foreclosures as unemployment remains high, she said housing is going to lag, not lead a rebound.
"There is a lot of wrong-minded thinking. People are assuming that the housing market is going to lift the economy out of recession. But the economy is going to need to improve first," Bryan said. "We could scrape around at low levels for several years."
- The opinions expressed in this commentary are solely those of Paul R. La Monica. Other than Time Warner, the parent of CNNMoney.com, La Monica does not own positions in any individual stocks.