New home sales drop 12.4% to record low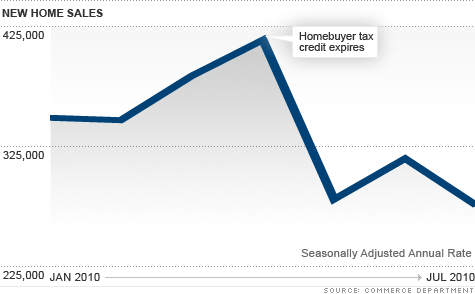 NEW YORK (CNNMoney.com) -- New home sales unexpectedly fell in July to the lowest level on record as the housing market continued to suffer from the end of the homebuyer tax credit boost.
New home sales dropped 12.4% to a seasonally adjusted annual rate of 276,000 last month, down from a downwardly revised 315,000 in June, the Commerce Department reported Wednesday. Sales year-over-year fell 32.4%.
Commerce started tracking new home sales in 1963.
Sales were forecast to tick higher to an annual rate of 334,000 in July, according to a consensus estimate of economists surveyed by Briefing.com.
"The report shows the housing industry is still nursing a bad hangover," said Mitchell Hochberg of Madden Real Estate Ventures in New York. "With shadow inventory, rising foreclosures, little job growth and more stringent access to credit, weak sales will persist and the industry's headache will linger."
Home sales had soared in March and April as homebuyers rushed to sign contracts ahead of the April 30 deadline for the $8,000 tax credit. But sales plummeted in May, the first month after the incentive expired, to an annual rate of 281,000. The pace only improved modestly in June.
On Tuesday, a real estate industry report showed that existing home sales sank 27.2% in July, twice as much as analysts expected, to a seasonally adjusted annual rate of 3.83 million units. The pace of sales of single family homes, which account for a bulk of the transactions, fell to the lowest level since May 1995.
A rebound in the housing market is considered a key element of the overall economic recovery, but that may be far off.
"We won't see sustainable increases in home sales until we can get the labor market on more solid footing, with consistent gains in employment and income," said Wells Fargo economist Anika Khan, who expects unemployment to peak early next year.
But Khan said with home sales at such depressed levels, there may be some modest increases sooner than that.
"We think this could be the end of the huge retracement we've seen after the tax credit," she said, adding that the recent rise in mortgage applications for purchase also adds a glimmer of hope.
Price and inventory: The government report showed that the median price of new homes sold in July was $204,000, down almost 6% from June and a 4.8% drop from July 2009.
An estimated 210,000 new homes were for sale at the end of July, the lowest since September 1968. At the current sales pace, the government expects it will take 9.1 months to sell through that inventory, up from the 8 months of inventory that was on the market in June. Six months of inventory is considered normal market conditions.
With a glut of unsold homes on the market and mounting foreclosed properties, economists expect home prices will continue to decline -- warning that a renewed downward trend could stall the overall economic recovery.
Meanwhile, a separate report released Wednesday showed that the Federal Housing Finance Agency's house price index declined for the first time in four months, falling 0.3% in June from May.
Sales by region: Sales fell the most in the West, where they decreased by more than 25%; the Northeast saw sales decline by 13.9. Sales in the South and Midwest declined by just over 8%.