Google makes bold move to battle Skype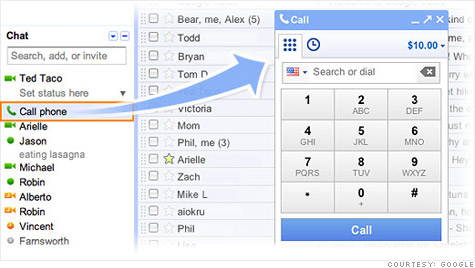 NEW YORK (CNNMoney.com) -- Google announced Wednesday that it will allow users to make phone calls over the Internet through its Gmail service, encroaching on territory that has thus far been dominated by Skype.
The service will appear in Gmail users' chat windows with a "Call phone" button. When clicked, a telephone dialer will pop up on the screen, and users can place calls using an internal microphone or connected headset.
Google (GOOG, Fortune 500) said calls to the U.S. and Canada will be free for at least the rest of 2010. The company said it will roll out the service to its U.S. users over the next several days.
Calls to other countries from the U.S. will be billed at Skype-like rates: Calls to the U.K., France, Germany, China, Japan, for instance, will be offered for 2 cents per minute.
Google also said it plans on making the service available for international users to initiate calls, but it didn't offer a timeline for when the service would be introduced abroad.
The company said the feature will be useful to make quick calls when a user is on a computer, or for placing calls in areas with poor reception.
"Given that most of us don't spend all day in front of our computers, we thought, 'wouldn't it be nice if you could call people directly on their phones?'" Robin Schriebman, Google software engineer wrote in a company blog post.
Customers who use Google Voice, Google's free telephone service, will be able to make calls in Gmail using their Google Voice numbers. They will also be able to receive calls made to their Google voice numbers inside Gmail if they choose.
The move positions the company in a battle with Skype. It won't be easy to overtake Skype, however: In its recent government filing for an initial public offering, Skype said it has 560 million registered users. That compares to nearly 200 million Gmail users, according to Google.
Still, Gmail is becoming a communications hub for its users. Prior to the phone service, Gmail already allowed users to e-mail, instant message and video chat on PCs. Users can also use Gmail to post to social networks through the service's Google Buzz feature.
Some analysts say the convenience factor could drive some would-be Skype users to Gmail's new phone service.
"Google Voice in Gmail will gain some traction, simply because it's there -- some people live in Gmail," said Vanessa Alvarez, analyst at Frost & Sullivan. "It will steal some share from Skype, but Skype has been in this space for a while, so it will be a long time before Google's share becomes significant."
As always, the question with any new Google product is how the company will make money on it. Like Skype, Google has an opportunity to sell its service to corporations. Google said a paid version for business customers will be coming out soon.
But Google hasn't had much success with business customers so far. Its Apps services are slow to be adopted by corporate customers, and the company recently killed its Wave collaborative tool for businesses.
With Voice in Gmail, some experts believe business adoption and revenue from the service will be equally poor.
"Google is taking the easy road of arming their army of fans and users with something just good enough to use -- but not necessarily good enough to meet enterprise requirements -- and standing back and watching to see how they can shape the market," said Tom Austin, Google applications analyst at Gartner.
As a result, Austin said he believes Google's paid revenue stream for the service will be quite small: just $20.3 million per quarter, or 0.3% of Google's second quarter revenue.
"How important can it be if it's so insignificant?" Austin asked.