Big Mac attack: McDonald's stock sizzles
NEW YORK (CNNMoney.com) -- If you needed any more proof that the economy is slowing down, look no further than how well McDonald's stock is doing.
Shares of Mickey D's are up 18% this year, putting the company neck and neck with DuPont (DD, Fortune 500) as the best-performing company in the Dow Jones industrial average. The stock is near a 52-week high, having gained nearly 6% just this month.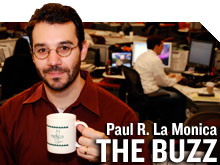 McDonald's (MCD, Fortune 500) is your classic consumer staples company that typically holds up better than sexier growth stocks during times of economic weakness.
Even if consumers are cutting their spending habits, they're probably a lot more likely to not go on a pricey vacation or buy a new car as opposed to cutting back on Big Macs and Chicken McNuggets.
"When people feel stressed about the economy, they are going with brands that are convenient, they are comfortable with and offer good value. McDonald's fits the bill," said Frank Ingarra, co-manager of the Hennessy Total Return fund in Stamford, Ct., which owns the stock.
Still, the strength in McDonald's shouldn't be solely (or skeptically for that matter) attributed to economic jitters and penny-pinching consumers.
For one, top rival Burger King (BKC) isn't doing nearly as well. It reported results earlier this week and was fairly cautious about the second half of the year due to macroeconomic concerns in the United States and Europe. Its stock is down 9% year-to-date.
Wendy's/Arby's Group (WEN) is also having a hard time and the only compelling reason to own the stock right now is if you believe that top shareholder Nelson Peltz will be able to pull off a deal to sell the company to another private equity shop.
There's also the fact that McDonald's is not just, uh, eating the lunch of its burger and fries rivals. A big part of the success story at the Golden Arches is that the fast food franchise is also aiming squarely at Starbucks (SBUX, Fortune 500).
McDonald's same-store sales rose 7% globally in July and the company said that a major contributor to that was strong demand for smoothies, iced coffee and other pricier menu items that are part of its McCafe line of products.
So is McDonald's still a good stock now or would only a clown like Ronald McDonald buy the stock after it's gone up so much?
Ted Parrish, co-manager of the Henssler Equity fund in Kennesaw, Ga, said McDonald's, trading at about 15 times 2011 earnings estimates, is reasonably priced given how well sales and earnings have been lately.
"McDonald's used to be a company that was a defensive stock only," said Parrish, who owns shares of McDonald's in his fund. "But it's now a hybrid. It will do well in down markets but they've also broadened the menu to include so many things that have much higher profit margins."
The stock is pretty much trading in line with its top rivals too.
Burger King is trading about 13 times earnings estimates for fiscal 2011. Yum! Brands (YUM, Fortune 500), which owns KFC, Taco Bell and Pizza Hut, has a price-to-earnings ratio of 15 based on 2011 earnings estimates. One fund manager who owns both McDonald's and Yum! said it makes sense for McDonald's to trade at a premium to its competition.
"McDonald's has turned itself around over the past few years. Many competitors don't necessarily have the strength that McDonald's has. It is the best global brand in the fast food business," said Colin Ducharme, an analyst with the Chase Growth fund in Charlottesville, Va.
So McDonald's still looks like a compelling buy. It even pays a dividend that yields 3% -- higher than a 10-year Treasury note.
And with a valuation you don't have to Grimace about (Remember that purple blob thingie? What happened to him?) plus relatively decent growth prospects, the stock could very well remain among the market leaders for some time.
Reader comment of the week. And don't call me the Situation: I wrote a lot about the economy this week. Shocker. Many of you had a lot of interesting things to say about the fact that the global economy, but U.S. in particular, is losing momentum. But this one is my favorite (and not just because it mentions a well-known list published by my corporate cousin.)
"Imagine this country is a big Fortune 500 company that lost 40% of its best customers. What would a company do when that sort of thing happens?" asked Mike Jones.
"Would they borrow a couple million from the bank to keep business going as before? Or would they cut costs, do layoffs, slash spending, cut benefits, look for additional ways to save money and dig in for the long haul...?"
Well said. It's understandable that consumers are hunkering down. That's a good thing for the economy over the next few years, but it will come at the expense of growth now.
Anyway, The Buzz will be on hiatus until September 7. Heading to the Jersey Shore. Hopefully will avoid Snooki. Enjoy next week and the Labor Day break, everyone.
- The opinions expressed in this commentary are solely those of Paul R. La Monica. Other than Time Warner, the parent of CNNMoney.com, La Monica does not own positions in any individual stocks.