U.S. overhauling fuel economy labels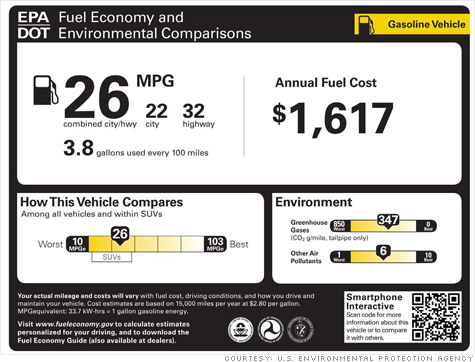 NEW YORK (CNNMoney.com) -- The Environmental Protection Agency and the Department of Transportation proposed two new designs for fuel economy labels Monday that would be used on all new vehicles.
The overhaul, which would be the biggest in 30 years, aims to help consumers easily compare the efficiency and environmental impact of all types of vehicles, whether they are gasoline-powered, plug-in hybrids or electric.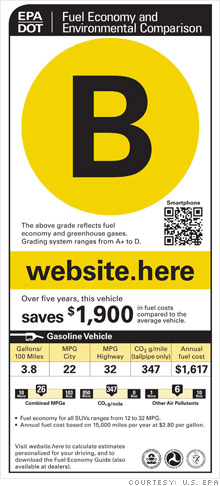 The agencies hope to finalize the labels in early 2011 and consumers can expect to start seeing the stickers show up on 2012 vehicles.
One of the proposed designs uses a letter grade to rate the vehicle's fuel economy and its level of greenhouse gas emissions, and will tell consumers how much money they will save over five years compared with a gasoline-powered vehicle.
Because no failing vehicles should come to market, the scale ranges from A+ to D, with a median grade of B-, the agencies said.
Electric vehicles would receive the highest grade of A+, plug-in hybrids would get A ratings, while other hybrids like the Ford Fusion and Toyota Prius would receive A-'s.
Vehicles closest to failing include the Ferrari 612, which would receive a D.
The other proposed design expands the standard "miles per gallon" label by adding new information on fuel consumption and emissions to help consumers better compare vehicles.
While the graded system provides consumers with a simple comparison right away, the other proposed design forces consumers to use the raw data provided to weigh the differences on their own.
Instead of displaying how much money a vehicle would save compared to other vehicles, the non-graded sticker would provide an estimate of annual fuel costs.
For vehicles where "miles per gallon" doesn't apply, it would provide a miles per gallon equivalent. Slightly different labels would be created for gasoline-powered, electric and plug-in vehicles, with kilowatts per 100 miles showing up on an electric car's label, for example.
DOT and EPA are requesting public comment for 60 days. To view the proposed labels or submit comments, consumers can visit: http://www.epa.gov/fueleconomy/ and http://www.nhtsa.gov/fuel-economy.