Surprise! Banks help more homeowners than Obama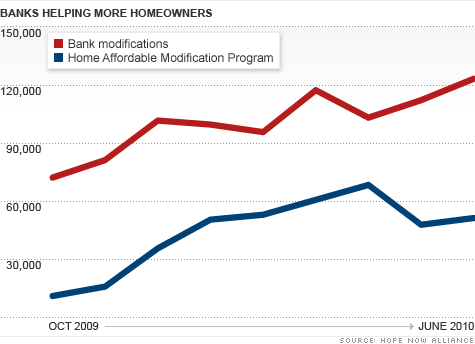 NEW YORK (CNNMoney.com) -- Remember how everyone complained that banks weren't doing enough to help troubled borrowers?
Well ...
Banks have realized that foreclosing on home after home after home may not be in anyone's best interest -- least of all their own. So they've ramped up the number of loan modifications they're handing out to their delinquent clients.
Banks are doing nearly twice as many modifications under their own foreclosure prevention initiatives than under the Obama administration's signature Home Affordable Modification Program, known as HAMP.
But before homeowners rejoice, they should take a close look at the terms of their bank modification offers, consumer advocates say. Many may not be as good as HAMP, which lowers monthly payments to 31% of pre-tax income.
"We don't know if they are sustainable based on the monthly payment," said John Snyder, manager of foreclosure prevention programs at NeighborWorks America, adding banks don't release a lot of information about their modifications. "We're not sure what to think."
Reducing interest and principal
Banks have long come under fire not doing enough to help troubled homeowners, particularly when the mortgage crisis started spinning out of control in 2007. Many loan servicers initially addressed the problem by tacking on the missed payments, which only increased strapped homeowners' monthly burden.
More recently, however, banks have trumpeted their in-house efforts to stem the foreclosure tidal wave. They are calling more attention to their own programs at a time when the president's plan is being widely panned for its ineffectiveness.
Servicers completed nearly 644,000 so-called "proprietary permanent modifications" in the first half of this year, compared to 332,000 such adjustments made under the Obama program, according to Hope Now, a consortium of mortgage servicers, investors and housing counselors.
About half of borrowers who don't land a permanent HAMP modification are given an in-house adjustment, according to federal statistics.
"The vast majority of modifications getting done are happening outside of HAMP," Mike Heid, co-president of Wells Fargo Home Mortgage, told a House of Representatives panel in June.
At the hearing, bank executives credited the president's plan with setting an industry standard for loan modifications. But they told lawmakers that their own programs have helped far more people.
About 78% of banks' in-house modifications involved interest rate and principal reductions, Hope Now found.
Housing advocates are increasingly calling on banks to reduce principal because many homeowners owe so much more on thier mortgages than their home are worth. Banks have been loathe to cut loan balances, and virtually no government-subsidized modifications involve this step, in large part because Fannie Mae and Freddie Mac do not allow it. The two mortgage finance giants guarantee many of the loans eligible under HAMP.
Outside of the Obama plan, however, banks have started to warm to principal reductions.
Wells Fargo, for instance, said last week it has reduced more than $3.1 billion in principal on nearly 60,000 loan modifications in the past 18 months. It uses a combination of principal adjustments, interest rate reductions and term extensions to assist its borrowers, the bank said.
Not the same
Unlike the Obama program, however, bank modifications can vary widely and few details are available about them. Housing counselors say they have heard of some with unfavorable terms.
Ida Ward was none too pleased with the permanent modification offer she received last month.
The Atlanta middle school teacher had called her mortgage servicer in the spring of 2009 after seeing her income drop considerably. She was enrolled in a trial HAMP modification, which reduced her monthly payments to $1,424, down from $2,430.
After more than a year in the trial period, Ward received a final loan modification agreement. But she soon realized she had been shifted from the president's program to an in-house Chase modification with "horrible" terms. Her loan was being amortized over 40 years at a 5% interest rate with a $197,500 balloon payment due at the end. She must now pay a little more than $2,000 a month.
"These banks should be ashamed of the terms that they are giving to borrowers," said Ward, who said she had no choice but to accept the offer. "The loan modification process is flawed and deceptive to borrowers."
A Chase spokeswoman said that Ward did not meet the qualifications for a HAMP modification, but the bank was able to give her an adjustment that it believes will allow her to keep her home.