Back-to-school checklist: Whiter teeth & tattoos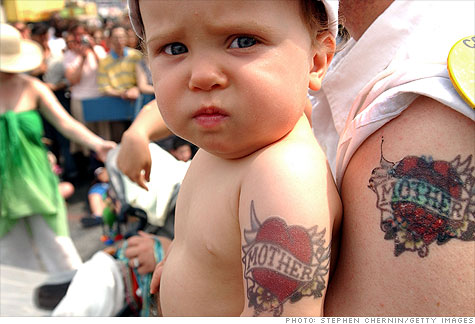 NEW YORK (CNNMoney.com) -- Shopping for back-to-school "basics" used to mean T-shirts, jeans, socks and some notebooks. This year, parents added a few other things with one item that really stands out: tattoos.
About 45% of parents polled say that hair highlights, teeth whitening, even tattoos are among the items they will buy their kids to go back to school, according to a new American Express Spending & Saving Tracker survey.
The survey tracks parents' school-related spending intentions.
Haircuts led the list of services that mom and dad are treating junior to before the first day of school. But they are also willing to indulge their kids with a few extras.
According to the report, 18% of parents intended to buy teeth whitening services.
And 9% of parents were willing to pay for tattoos for their kids. On average, parents were spending about $70 on tattoos and teeth whitening, versus $40 on average for their kid's haircut.
Still, the survey found that teeth whitening and tattoos were lower down the list of grooming priorities.
"I think everyone found the teeth whitening and tattoo results very interesting," said Mona Hamouly, a spokeswoman for American Express. "The idea was to poll parent consumers on a mix of mundane and some outlandish things that they would buy their kids. We didn't expect tattoos to even rank in the list."
One catch: Hamouly said the tattoo question in the survey didn't specifically mention whether the tattoo would be temporary or permanent.
Regarding their total budget for school-related expenses, the survey showed that the average family of four will spend about $550 this year.
And 76% of parents said they would shop for items on sale or clearance as well as use coupons for additional savings.
Top purchases are T-shirts, jeans and shoes. One third of parents will also buy gadgets such as computers, cellphones, MP3 players and an iPad.
The online survey conducted in mid-July, polled more than 2,000 parents, including 500 households with children in grades K to 12.