Back to school sales get an A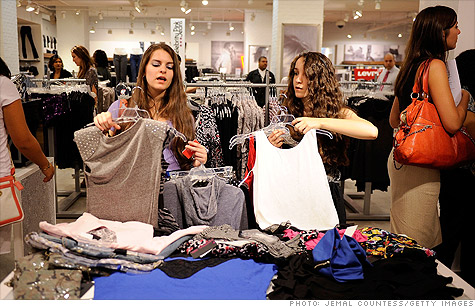 NEW YORK (CNNMoney.com) -- Retailers reported surprisingly strong August same-store sales as many consumers braved scorching summer temperatures to bag juicy discounts on school-related products.
Same-store sales, an important gauge of a retailer's health, measure sales at stores open at least a year.
Thomson Reuters, which tracks same-store sales for a group of 28 national chains, said total sales for the group rose 3.3% in August, much better than it's initial forecast of a 2.5% gain for the group.
Retailers same-store sales declined 2.9% for the same month a year ago.
Tax-free shopping weeks in several states, designed to boost school-related shopping in the month, likely boosted traffic and purchases in stores, according to Thomson Reuters analyst Jharonne Martis.
"Tax-free events in 17 states were a big hit," said Ken Perkins, president of research firm Retail Metrics. "Four more big states, Illinois, Florida, Massachusetts and Maine held these events this year and it certainly boosted sales."
Among the clear sales winners last month were clothing and stores catering to teen and young adult shoppers. Discounters and department stores are also expected to see improved sales over the previous month.
Limited Brands (LTD, Fortune 500), parent of Victoria's Secret and Bath & Body Works chains, posted a 10% surge in sales last month, trouncing analysts' estimates for a 7.3% increase.
Sales at Abercrombie & Fitch (ANF) jumped 6% in the month, beating estimates for a gain of 5.7%.
Trendy clothing chain Wet Seal reported a 1.1% sales gain versus estimates for a 3.5% decline.
"These August sales were also driven by heavy promotions," said Perkins. "The level of back-to-school discounts, as much as 50% off, was the highest that we've seen in a number of years," said Perkins. "These sales also came much earlier than usual. Retailers were cutting prices in early July."
Hopes raised for holiday sales
July and August sales together typically represent the important back-to-school selling period for stores.
The two-month period, during which consumers shop for both school and college merchandise, is the second-biggest shopping event for stores after winter sales.
Given that back-to-school sales are also considered to be a harbinger of the critical year-end holiday sales, a strong August could signal a pick up in Christmas gift shopping this year.
That's vital because the November-December period can represent half or more of stores' sales and profit for the full year.
"There is now a glimmer of hope for for holiday sales," Perkins said, adding that maybe there's enough pent-up demand among shoppers, even though consumers are still very cautious about their budgets.
"August sales confirm that people are shopping around events and discounts. So the expectation is that we will get a better than lackluster Christmas season this year," he said.
Overall, the National Retail Federation expects American families will spend 10% more on back to school clothes, shoes, supplies and electronics versus last year to reach a total of $21.35 billion.