Second act: From software to wind energy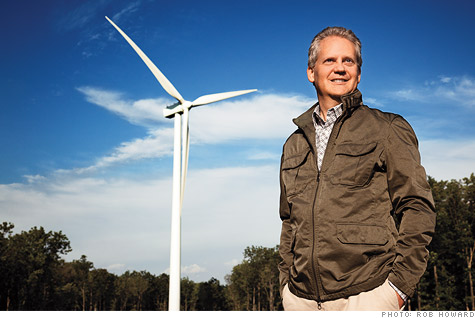 (MONEY Magazine) -- Jim Maguire describes himself as being ahead of his time, and he's hardly bragging. In 2002, Maguire -- who managed software projects for large companies -- was consulting in Germany when he discovered "the next big thing."
"I saw how effectively that country had embraced renewable energy, and I felt certain the U.S. would get serious about it," says Maguire, 49, who lives in Baltimore.
Having grown tired of the work he was doing, he began attending seminars on sustainable energy. Soon after, he founded WindCurrent to broker deals between wind-power generators and companies seeking to reduce their carbon footprint.
Landing his first big customer -- the World Bank -- took two years, but after that the business grew quickly. Today Maguire has 50 recurring clients and pulls in $500,000 in annual revenue. Better yet, he feels that he's helped push the movement forward.
"When I started out, green was just a color," he says.
How He Did It
1. By using revolving debt. Maguire financed WindCurrent with two home-equity loans -- he and his wife own two residences -- and low-rate credit cards. He paid off the $50,000 he borrowed by 2006.
2. By not taking a cut. To speed debt payoff, Maguire didn't take a salary until 2006, when he made $30,000. He'll pay himself $75,000 in 2010 and in 2011 he plans to draw $120,000, close to what he earned before.
3. By living on less. With only one income in those early years (Maguire's wife works in insurance), the couple and their two sons moved to the smaller of their two homes and rented out the larger one.