New York Times stock surges on takeover talk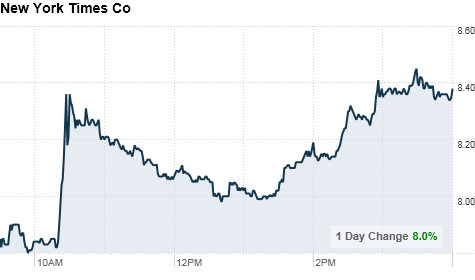 NEW YORK (CNNMoney.com) -- Shares of the New York Times Company jumped Wednesday on rumors that the world's richest man could increase his stake in the newspaper publisher.
The stock gained 62 cents, or 7.9%, to close at $8.38 per share. Despite the advance, shares of the publisher of the New York Times are down 32% so far this year.
The rally was driven by renewed speculation that Carlos Slim, the Mexican telecom mogul who replaced Bill Gates as the world's richest man earlier this year, is interested in buying the New York Times Company (NYT). The chatter later in the day was that Slim, who owns 6.9% of the company's Class A shares, could increase his stake.
"The stock started strong on heavy volume, and there was a fair amount of option activity at the $9 strike price," said Douglas Arthur, an analyst at Evercore Partners. "The Slim rumor always surfaces when that happens because of his equity stake in the company and the warrants he owns to buy 16% of the stock."
In addition to his equity interest, Slim also injected $250 million into the Times company last year as it struggled to restructure a heavy debt load. Like many other publishers, the Times company suffered as spending on advertising, which makes up the bulk of revenues for most newspapers, dried up during the recession.
Diane McNulty, a spokeswoman for the Times company, declined to comment.
It's unlikely that Slim could buy control the publisher, since members of the Ochs-Sulzberger family, who own a majority of the Times' class B shares, would have to agree to any takeover.
"There's no way he can take over the company," said Edward Atorino, an analyst at the Benchmark Company, adding that speculation about Slim increasing his stake is slightly more plausible.
The decline in advertising revenue has slowed recently and the Times company is likely to remain a leader in the industry, he said. "Maybe [Slim] thinks the timing is right."
The Times' stock lagged rival publisher Gannett (GCI, Fortune 500) last year and could be poised for a rebound this year, said Morningstar analyst Joscelyn Mackay. "This is a company that's going to look better the second we emerge from the recession," she said.
Still, the Times company has been the subject of takeover rumors before, which ultimately proved false. "These rumors surface from time to time, take on a life of their own, and then peter out," said Arthur.