Obama's jobs pitch fails to dazzle Washington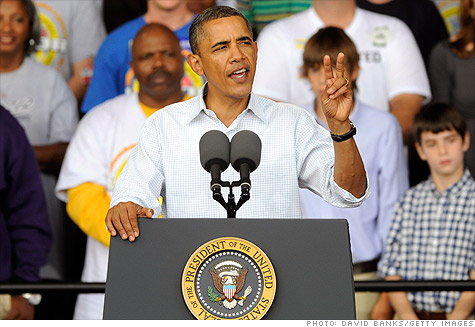 WASHINGTON (CNNMoney.com) -- President Obama's latest round of job-bolstering proposals boasts something for everyone: corporate tax breaks for conservatives and spending on roads and railways for liberals. Yet he's having a hard time getting everyone on board.
The White House has found cheerleaders among top Democratics in Congress and unions who enthusiastically support the $50 billion in infrastructure spending.
Several Republicans and business groups, however, are not embracing the proposed $200 billion worth of corporate tax breaks, which Obama is expected to talk more about on Wednesday in Cleveland. The groups don't like how the breaks are paid for: with higher taxes on oil and gas companies.
Even more pressing, one key senator, whose vote will be crucial to passage of any jobs bill, says the higher taxes concern her too.
Sen. Mary Landrieu, D-La., said Tuesday she is skeptical of paying for "otherwise beneficial proposals" by raising taxes on the oil and gas industry.
"While these tax increases may be politically popular in some areas of the country, they have a disproportionately negative effect on working families in the Gulf Coast where much of the industry is located," said Landrieu spokesman Aaron Saunders. "Sen. Landrieu fully supports getting America's economy back on track but feels that it should not be done at the expense of the Gulf Coast."
And Sen. George Voinovich, R-Ohio, who supports infrastructure spending, also warned that raising taxes on oil and gas companies would "simply be passed down to consumers through rate increases." Voinovich is calling for a new gas tax instead.
Even the U.S. Chamber of Commerce, which represents thousands of companies that could potentially cash in on the business tax breaks, won't support the package.
"We will not support an approach where the government picks winners and losers, providing tax credits and incentives to politically favored industries and groups while sticking others with the bill," said Bruce Josten, the Chamber's top lobbyist. "This is ultimately self-defeating and puts politics ahead of sound economic decisions that can create jobs."
That's not to say the White House doesn't have any support. Several top Democrats, including House Majority Leader Steny Hoyer, say they like the package, especially the infrastructure spending part.
Union groups, while not keen on the corporate tax breaks, called the infrastructure spending critical.
"As the recovery slows, we desperately need decisive action for our leaders on both fiscal and monetary policy," said Richard Trumka, president of the AFL-CIO on Tuesday. "It's time for leaders to show that they're economic patriots."
One thing is for sure: Congress is unlikely to pass any new job-creation bills before the November elections, congressional aides have said.
But the White House may need to come up with a new way to pay for the jobs package if it wants support from moderate Republicans like Sen. Chuck Grassley, R-Iowa. They'll need at least one Republican vote to break through the all-too-common filibusters in the Senate.
"Business investment incentives sound fine, but will they be paid for in a way that hurts job creation?" Grassley asked. "If the offsets for this new package are other tax increases, then it's a non-starter."