Obama coy on who will lead consumer agency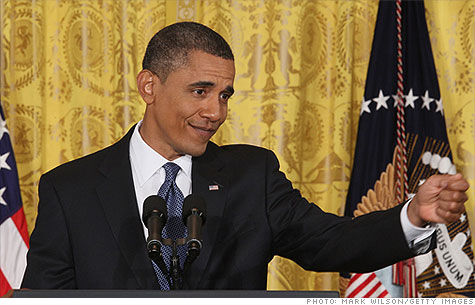 NEW YORK (CNNMoney.com) -- President Obama reiterated Friday the need for a new consumer financial protection regulator, although he would not officially say who he wants to run the agency.
In a news conference at the White House, Obama said he has had several conversations with Elizabeth Warren, a Harvard University professor who is the leading candidate for the job, over the last few months. But he stopped short of officially nominating her, saying that he will make an announcement on the issue "soon."
Warren, 61, has emerged as a leading candidate - especially among liberal Democrats - to run the new agency charged with protecting consumers from abusive mortgage and credit card practices. But there is speculation that her nomination would not garner sufficient votes in the Senate, since some lawmakers believe she lacks experience and is too liberal.
The agency, known as the bureau of consumer financial protection, is a key part of the administration's regulatory reform bill, which was signed into law earlier this year. "This agency has the capacity to really provide middle-class families the kind of protections that's been lacking for too long," Obama said.
But he said the agency will take time to get off the ground, adding that it has only been "a couple of months" since the reform bill became law.
"This is a big task, standing up this entire agency," the president said.
He said the new agency will prevent credit card companies from raising interest rates for no reason, including on existing balances. "And that could save American consumers tens of billions of dollars just in the first couple of years."
Obama also said the agency will shield consumers from abusive practices in the mortgage industry, making sure that the terms of a mortgage are easy to understand and helping consumers avoid being hit with "huge balloon payments."
"There's going to be some oversight in terms of how mortgages are shaped," he said. "That's going to affect the economy as well as individual consumers."