HP keeps dealing, buys ArcSight for $1.5B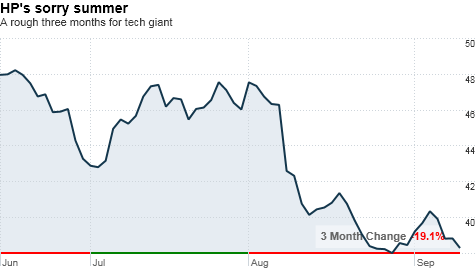 NEW YORK (CNNMoney.com) -- Hewlett-Packard said on Monday that it has signed an agreement to buy ArcSight, Inc., a security software company, for $1.5 billion.
HP said that the purchase, at $43.50 per share, will allow the world's largest technology company to "improve security" and "reduce risk ... at a lower cost for customers."
ArcSight's (ARST) stock surged 26% after the opening bell, while HP (HPQ, Fortune 500) notched up slightly.
HP said that the deal is expected to be finalized by the end of the year.
This is the second company that HP has purchased this month. On Sept. 2, the company announced that it had concluded its bidding war with Del (DELL, Fortune 500)l for storage company 3PAR (PAR). HP ultimately agreed to buy 3PAR for $33 a share, or $2.35 billion.
HP also announced a deal in mid-August to purchase privately held software firm Fortify.
Meanwhile, HP is still searching for a permanent chief executive officer and recently filed suit against its former CEO, Mark Hurd, for joining Oracle (ORCL, Fortune 500) as co-president.
Hurd left HP in early August amidst allegations that he submitted false expense reports with the intent of concealing a personal relationship with a contractor who had also filed a sexual harassment claim against him.
HP's recent slew of deals have some speculating that the company is being aggressive to prove to investors that it's not a rudderless ship without Hurd at the helm. Analysts say that might be an added bonus of HP's dealmaking, but it's probably not the primary driver.
"HP had a pipeline, and the deals that they have made were possibly ones that Hurd had proposed," said Carl Howe, analyst at Yankee Group. "It's just going ahead with its business. A company can't complete acquisitions over just a few weeks."
The companies that HP has purchased since Hurd's resignation are the same kinds of businesses that it was buying during Hurd's tenure. HP has been snapping up storage, security, networking and software companies in an effort to expand beyond its core hardware business.
But the deal that drew the most skepticism was HP's drawn-out battle for 3PAR. Though the acquisition made strategic sense, the price HP paid for it was believed to be much higher than the cost-cutting Hurd would have offered.
"With 3PAR, you can make the case that it was important for HP to win after Hurd's departure," said Ron Gruia, principal consultant at Frost & Sullivan. "But with ArcSight, it's clearly a long-term play."
If HP is trying to instill confidence in its investors by buying up companies, the strategy hasn't worked: HP's stock is down 17.5% since Hurd resigned.