Trade schools flunk key test: Helping students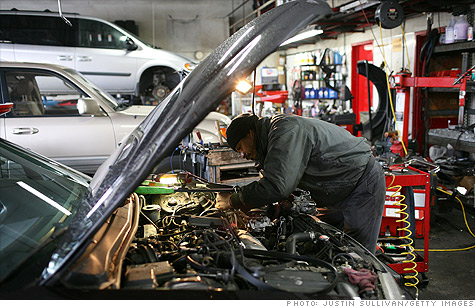 NEW YORK (CNNMoney.com) -- Desperate to find jobs in a troubled economy, more Americans are enrolling in trade schools to learn practical skills that would give them more options in the workplace.
But some students are having trouble paying the tuition at these schools, and a recent government investigation has cast a shadow over the institutions' recruiting practices.
Enrollment at for-profit schools - a category that includes most trade schools - has jumped dramatically during the recession, to nearly 1.8 million students from about 365,000 "in the last several years," according to the Government Accountability Office.
This means that more students are learning to become auto mechanics, plumbers, beauticians, carpenters and engineers. More people are learning how to fix refrigerators, air conditioning units and computers.
"I can imagine somebody getting laid off from a factory line and saying, 'I better go learn a trade, because the knitting mill is going out of business,'" said Drew White, chief financial officer for Sageworks, Inc., a research company that studies privately held companies. "They're still going to have to go out and compete in the workplace for employment, but you're going to have a better shot if you've got specialized and valuable skills."
That attitude has helped boost cash flow for trade and technical schools. Revenue, including tuition and endowments, jumped more than 10% at trade and technical schools over the last 12 months, according to Sageworks.
By contrast, growth at non-trade schools specializing in fine arts, language, sports and recreation instruction has risen about 6%, according to Sageworks.
"Another real benefit to these type of trades is that they're never going to be outsourced," said Steve Markowitz, dean of the Apex Technical School in New York, which trains automotive technicians, electricians, plumbers, carpenters, and welders, as well as teaching refrigeration, air conditioning and auto body repair. "If a car breaks down, you need to fix it. If a building needs to be wired, it's going to be done here in New York."
Anthony Natoli, director of admissions at the New York Automotive & Diesel Institute, touted the job stability of auto repair skills.
"What's beautiful about this industry is that it's almost recession-proof," he said. "If your car's broken down and you need to get to work, you need to get your car serviced. Cars are going to be around for a while; we're not going back to horse and carriage any time soon."
But are these skills worth the price of tuition? Many graduates are having trouble meeting the costs.
The default rate at for-profit schools is the highest, compared to other types of schools. It climbed to 11.6% in 2009, from 11% the year before, according to a study released Monday by the U.S. Department of Education. The rate is higher than the 6% for public schools and the 4% rate for private institutions.
Tuition at for-profit schools runs significantly higher compared to public institutions, according to the Department of Education. The department said the average cost for a degree of less than two years is $11,480 at a for-profit compared to $2,451 at a public school.
For programs longer than two years, the for-profit schools charge $12,026 compared to $7,077 for a four-year degree at a public school.
The success rate of job placement regarding for-profit schools has also become a controversial topic. The Government Accountability Office, which is the investigative arm of Congress, unveiled a report in August based on undercover tests of 15 for-profit colleges, including Kaplan College, Everest College and the University of Phoenix.
The investigation found that "four colleges encouraged fraudulent practices and that all 15 made deceptive or otherwise questionable statements to GAO's undercover applicants." The nature of the fraud included exaggerated claims of earning potential after graduation - including a school representative who told a prospective student that barbers can earn up to $250,000 a year.
The GAO called that "an exceptional figure for the industry," noting that the U.S. Bureau of Labor Statistics says that 90% of barbers make less than $43,000 per year.
Markowitz and Natoli, representing the two New York schools, said statistics were unavailable regarding job placement for their graduates.
White of Sageworks believes that these practical skills are essential, even for students who already have college degrees, because they give people more employment options. He said some students might pursue their dreams of going to theater school and becoming actors, but they would also want to learn something more marketable.
"Harrison Ford started out as a carpenter," he said. "He still had to eat. He still had to have some type of practical skill before he was discovered."