FedEx: Economy improving but cutting 1,700 jobs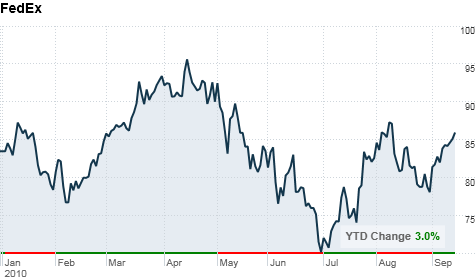 NEW YORK (CNNMoney.com) -- The outlook for a global economic recovery is still clouded by uncertainty, reflected by a mixed report from delivery giant FedEx Thursday.
Global logistics giant, FedEx Corp., reported a higher profit. But while the world's second-largest courier said it expects "moderate growth" in the global economy going forward, it also plans to cut 1,700 full-time employees and close about 100 facilities as it consolidates two of its divisions.
FedEx is viewed as an economic bellwether, because of both its size and global presence.
In a statement, FedEx chairman, president and CEO Frederick W. Smith cited "improved global economic conditions" as one factor boosting demand for shipping services. But on a call with investors, he also said he expects "somewhat slower economic growth going forward."
That outlook mimics the gradual recovery that the transportation industry -- and the economy as a whole -- is also pointing to, said Nate Brochmann, an analyst with William Blair & Company.
"While the rate of growth may be slower, volume continues to increase," he said. "Things are starting to gradually improve."
On Thursday, FedEx raised its forecast for the second quarter and overall fiscal year -- an encouraging sign for the economic recovery, Brochmann said. The company also said it is increasing its capital spending to $3.5 billion for the year, as it purchases more planes to keep up with continued international growth.
But its new guidance still fell short of analysts' estimates. Shares of FedEx (FDX, Fortune 500) fell more than 3% in morning trading.
FedEx also said it will cut costs by combining its freight and so-called "less-than-truckload" delivery divisions starting at the end of January, which will result in the bulk of the job losses.
The freight division lost $16 million in its latest quarter due to discounted shipping contracts, compared with profits of $2 million in the same quarter last year.
The company reported earnings per share of $1.20 for the quarter ended Aug. 31, the first quarter of its fiscal year. The results fell slightly short of analysts' expectations of $1.21 per share, according to Thomson Reuters.
However, net income was still up more than 110% over last year, to $380 million. The rise in income was driven by growing demand for express and domestic services -- two divisions that were hard hit when the recession shrunk demand for shipping goods.
Revenue at FedEx also increased 18% over the year-ago quarter, to $9.46 billion.