Research in Motion: Not dead yet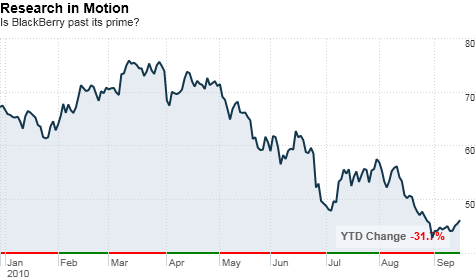 NEW YORK (CNNMoney.com) -- Despite widespread speculation that the BlackBerry is past its prime, Research in Motion on Thursday reported quarterly profits that beat analysts' expectations and issued an upbeat forecast.
Shares of the smartphone maker surged more than 4% in after-hours trading. The stock rose 2%, to $46.49, in regular trading on Nasdaq.
RIM's (RIMM) stock has dropped more than 30% so far this year as the BlackBerry maker has lost market share to Apple's (AAPL, Fortune 500) iPhone and the many phones that run on the Android operating system of Google (GOOG, Fortune 500).
Some analysts have maintained that fears about growing competition from the iPhone and other rivals were blown out of proportion. It appears they may be right -- RIM's performance may silence some of its critics.
"The competition concerns are definitely overblown," said Shaw Wu, an analyst at Kaufman Brothers. "Many people forget that we're still pretty early in the smartphone adoption curve."
Wu said that only about 20% of all handsets on the market are smartphones, suggesting that there is plenty of room for multiple players.
"It's not like this is a mature market," he said. "This is a vastly growing market."
RIM reported net income of $796.7 million, or $1.46 per share, in its fiscal second quarter. That's up sharply from $475.6 million, or 83 cents per share, in the same period a year ago.
Analysts were expecting $1.34 per share, according to estimates from Thomson Reuters. Revenue grew 31% in the quarter to $4.62 billion. Analysts were expecting sales to rise to $4.5 billion.
The company, based near Toronto, said it shipped a record 12.1 million BlackBerry smartphones in the quarter, an increase of 45% versus the same period last year.
RIM said its subscriber base grew 56% over the prior year to over 50 million users.
Jim Balsillie, co-chief executive officer of Research In Motion, said he expects the strength to continue in the current quarter as the holiday shopping season kicks off and the company rolls out its new BlackBerry Torch into more markets around the world.
"We are looking forward to continued strong adoption of the BlackBerry platform around the world," Balsillie said in a conference call with analysts.
Looking ahead, RIM said it expects earnings per share to range between $1.60 and $1.70 in its fiscal third quarter. Analysts were predicting a profit of $1.39 per share.
The company expects revenue to be between $5.30 billion and $5.55 billion in its fiscal third quarter. That's well above the $4.8 billion that analysts were forecasting.
Balsillie repeatedly alluded in the conference call to potential announcements at BlackBerry's upcoming developers conference, Devcon, which kicks off later this month.
"I think you're going to be pleasantly surprised at Devcon," he said, without providing details. "I think you're going to see our capacity to go beyond what could have been expected by anyone."
Wu said the company could potentially announce plans to offer its new operating system, BlackBerry 6, or the Torch on new networks.
In addition to stiff competition from rival smartphone makers, RIM has been struggling to resolve privacy and security concerns raised by the leaders of India and Saudi Arabia.
Balsillie said RIM continues to engage in "constructive discussion" with authorities to resolve the issue, adding that the company "cannot compromise the security architecture of the BlackBerry enterprise solution."