Retailers to boost holiday temp jobs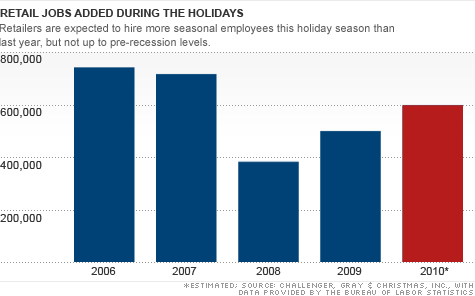 NEW YORK (CNNMoney.com) -- Keeping your fingers crossed for a temp job during the holiday shopping rush?
Here's the good news: Retailers are expected to hire more seasonal workers this year, increasing their payrolls by up to 600,000 jobs during the holiday months.
The bad news is, they're still not ramping up their payrolls to pre-recession levels, outplacement firm Challenger, Gray & Christmas Inc. said in its latest holiday hiring forecast released Monday.
"Retailers do not want to be caught with too many workers at a time when many of the fundamentals needed for strong consumer spending remain a little shaky," John A. Challenger, chief executive officer of Challenger, Gray & Christmas said in a release.
Before the recession began, retailers hired 720,000 workers during the 2007 holiday season. And in 1999 that number was near 850,000.
But with unemployment high at 9.6%, consumer spending is still stuck in a rut -- and as a result, stores are cautious about adding to their holiday payrolls.
"There are still nearly 15 million Americans out of work and many have lost their homes or are struggling to hang on to them. This does not bode well for heavy holiday spending," Challenger said.
Last year, retailers added about 500,000 jobs to their payrolls in October, November and December. Holiday hiring is still recovering from its 22-year low reached at the height of the recession in late 2008, when retailers hired only 384,000 temp workers.
Heading into this year's holidays, two months of positive retail sales in both July and August are likely to give retailers a little boost of confidence, but many stores may hold off on hiring until November and December as they continue to be wary of a shaky economy, the report said.
Forecasts from separate research firm Deloitte, show holiday sales will increase about 2% this year, totaling around $852 billion during the November through January period.
"Given the unsteady pace of economic recovery, retailers should expect only a small uptick in holiday sales this year," Carl Steidtmann, Deloitte's chief economist said in a release.
Big box discounters like Wal-Mart and Target are likely the best places for job seekers to start their search, as consumers are still cost-conscious given the fragile economy, the report said.
Neither Target nor Wal-Mart would comment on the number of workers they plan to hire, but Wal-Mart spokesman Dan Fogleman said the retail giant plans to keep its seasonal hires in line with recent years.
Toys "R" Us announced last Thursday that it plans to open about 600 temporary stores across the nation -- more than six times last year's count, resulting in some 10,000 seasonal jobs.