Treasury yields fall after the Fed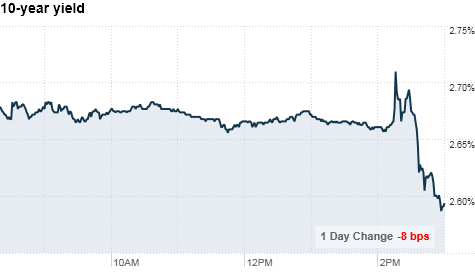 NEW YORK (CNNMoney.com) -- Treasury yields fell Tuesday, extending earlier declines, after the latest policy statement from the Federal Reserve raised bets the central bank could resume more aggressive purchases of U.S. bonds and notes later this year.
The central bank said in a statement that the economic recovery has slowed and that the pace of growth is likely to be modest in the near term. As expected, the Fed held its key interest rate at a historic lows between 0% and 0.25%, where it has been for two years.
While it did not announce any additional measures to aid the economy, some investors viewed a change in the Fed's statement as an indication that the central bank is willing to resume buying Treasurys in earnest later this year.
Echoing its last statement and recent comments from central bank officials, the Fed said it is prepared to provide "additional accommodation" if needed to support the economic recovery.
However, in the current statement, the Fed said additional steps could also be necessary to "return inflation, over time, to levels consistent with (the Fed's) mandate."
That comment suggests that the Fed is more worried about a sustained drop in prices, a malaise known as deflation, than an increase in prices, said Kim Rupert, a fixed income analyst at Action Economics.
She said many investors took the change as a sign the Fed will go beyond its previously announced plan to reinvest proceeds from its portfolio into Treasurys and begin buying them outright later this year.
"It's a subtle change, but it certainly opens the door for more quantitative easing," she said, referring to the Fed's policy of buying Treasurys. "The Fed didn't dissuade us from thinking that they'll come in with more QE."
The Fed bought billions worth of Treasurys two years ago to help keep long-term interest rates low and stimulate the economy. But some central bankers have expressed concern about expanding the Fed's balance sheet, which is already holds over $2 trillion in assets.
Paul Dales, U.S. economist at Capital Economics, said the Fed is unlikely to announce another round of asset purchases soon, adding that he doubts such a move would help the economy.
"Economic conditions would have to deteriorate much more significantly and deflation would need to be imminent," before the Fed would act, Dales wrote in a research report. "Even then, more asset purchases wouldn't prevent a number of years of lackluster economic growth, sustained high unemployment and low inflation."
That's because long-term interest rates are already very low and that deflation is not likely to rear its head until 2012, according to Dales. Instead, he said consumers and businesses need to continue paying back debt and regain confidence in the economy before growth can resume.
The yield on the 10-year note fell to 2.58% from 2.72% late Monday.
The 30-year bond yield dropped to 3.79%, and the yield on the 5-year note slipped to 1.31%. The 2-year note's yield fell to a record low of 0.43%. Bond prices and yields move in opposite directions.