Should you lie about your salary?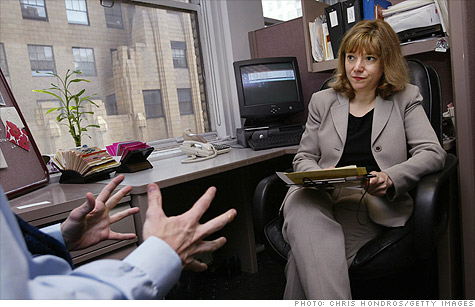 (MONEY Magazine) -- You might be tempted to inflate your salary during job negotiations these days -- after all, raises have been scarce.
Why tell a prospective employer what you really earn when you should be making more, perhaps quite a bit more? If a little padding can help you get to the number you want, what's the harm?
Well, if you're found out, "your credibility is diminished, and your entire career could suffer," says Lee Miller, author of Get More Money in Your Next Job ... in Any Economy.
Nevertheless, 23% of job seekers say they have lied or would lie during the interview process, a recent survey by job site Vault.com found. And even the experts admit that being too honest can be to your detriment. You might set the salary bar too low and lose out on real money.
Your best move? The artful dodge. Proceed like this:
Dance around the facts
Many companies will press candidates to reveal their salaries early on. But you want to avoid talking hard numbers until an offer is on the table.
If you're faced with an application, write, "To be discussed in person," or leave it blank. If asked in an initial interview, say, "I'd like to focus on the opportunity here, and whether it's a good fit," suggests Jason Levin of Vault.com.
Never report blatantly phony numbers, especially in writing, says Kathleen McKenna, an employment lawyer at Proskauer Rose in New York City. Most applications include a warning that reporting false information is grounds for termination. And anyway, the company may make its hiring decision contingent upon its ability to verify your salary.
Inflate your number fairly
Once you begin negotiations and real numbers are required, "the phrase to use is 'my total compensation,' " says Miller.
Add to your wages the value of any stock options, 401(k) match, bonuses, and upcoming raises, and say something like "My total compensation is in the range of $150,000." That swells the figure you can cite without distorting the facts.
You don't want to price yourself out of the ballpark, of course, especially in this market. But this approach allows you to negotiate all aspects of your pay to arrive at a complete package that's fair.
Focus on greater truths
After establishing what you're being paid now, you'll want to change the discussion to what this job should be paying.
Research salaries for comparable positions at Salary.com and Payscale.com, so that you can say, "But my understanding is that a job at this level should be in the range of $X." And when an offer is made, negotiate upward. Doing so can't hurt, even in this economy, says Levin: "It shows that you respect yourself."