Parents left frustrated by Similac recall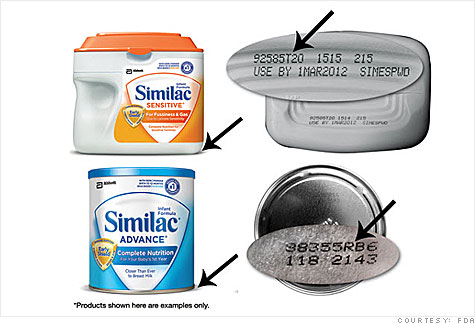 NEW YORK (CNNMoney.com) -- Abbott Laboratories created a website for parents and caregivers to check if their baby formula was affected by Wednesday's Similac recall. A convenient way to help consumers -- if the website would actually work for them.
Families possibly affected by the recall swamped the company's website and phone hotline on Thursday, only to meet a dead end. The overwhelming surge of traffic resulted in busy phone lines and website problems, leaving parents frustrated by the company's lack of response.
On Wednesday, Abbott Laboratories issued a recall of about 5 million cans of certain Similac-brand powdered infant formula, due to the possible presence of beetle larva.
If ingested, the FDA said that this type of beetle could cause discomfort and irritate the gastrointestinal tract, making infants lose their appetite.
Following the recall, Abbott (ABT, Fortune 500) established a 24/7 phone hotline and directed consumers to a website for more information, including the product lot numbers affected by the recall. Repeated attempts to access both services by CNNMoney have been mostly unsuccessful.
It's a problem the company is aware of.
"Both the website and our hotline have been increasing capacity ... there has been significant volume," said Melissa Brotz, spokeswoman for Abbott Laboratories.
Users who are able to access the website are asked to enter the lot number listed on the product container. After being submitted, the website returns a verdict: Your Similac is either part of the recall or not.
Raquel Powers, a spokeswoman for Abbott, said the company is trying to verify each lot number -- a process that is still ongoing.
"We are [still] verifying the lot numbers," she said. "The recall is several thousand lots -- some of which vary by only one number -- and we don't want to confuse caregivers and parents."
Once the affected lot numbers are verified, a full list of lot numbers will be released, Powers said. Getting all of the affected lot numbers out is a top priority for Abbott. However, it's not being done fast enough for some parents.
What parents are saying: Christopher Justice, the father of an infant who has used Similac since birth, said Thursday that he was able to access the site -- but only after repeatedly trying on 3 or 4 computers in the early morning hours.
"We were hitting with 3 to 4 devices and finally got through," he said. "And then after 8 to 10 minutes, we got a notice saying it's been recalled."
But Justice is still worried, and upset that information wasn't more readily available. It's a problem that Jean Halloran, the director of food policy initiatives at Consumers Union, says is common.
"It is often difficult to get good info in the early stages of the recall," Halloran said. "That is something I think is not acceptable, especially when you are dealing with an infant product.
"The company is doing something they don't do all the time," she adds. "But they have an obligation to devote adequate resources to getting information out."
UPDATE: A spokesperson for Abbott later clarified that the company has verified all of the affected lot numbers, and is in the process of releasing additional information to the public.
For information on the recall, Abbott said that parents and caregivers can go to www.similac.com/recall10 or call Abbott's consumer hotline, (800) 986-8850, for more information.