Flat-screen TV prices to plunge for holiday season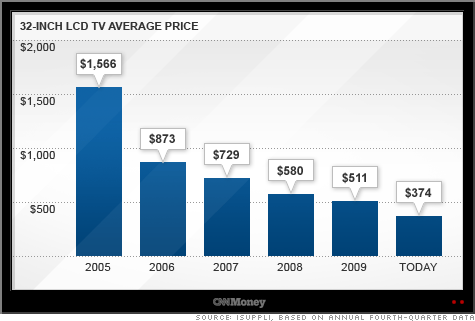 NEW YORK (CNNMoney.com) -- An historically large oversupply of LCD TV panels is causing television prices to fall right in time for the holiday shopping season.
By the end of this month, LCD TV prices will be about 5% lower than they were at the same time last year, according research firm DisplaySearch. But a tailspin will start in October: In the last three months of the year, the firm forecasts that prices will keep falling until they bottom out at 12% below 2009 levels.
In some blowout sales, the price slash could be even more dramatic.
On Black Friday, 32-inch LCD TVs will drop to an average price of between $249 and $299, with the best deals as low as $199, according to a prediction from research firm iSuppli. The 32-inch LCD TVs currently sell for $349 to $399, on average, with the cheapest model (Emerson's LC320EMX) selling for $300.
The forecasted price plunge stems from an enormous surplus of LCD panels that has accumulated over the first nine months of the year. Shipments of the panels rose to 52 million in the second quarter, but only 38.7 million TVs were actually shipped to retailers, according to iSuppli.
That 36% inventory gap piles on top of a 25% oversupply in the first quarter. Those figures are higher than anything seen in 2009 -- which was also an awful year for flat-screen TVs. Sales were were so bad last year that prices fell by as much as 30%, according to DisplaySearch.
Why is the supply chain so overstuffed? Because demand for flat-screen TVs has been sluggish this year, thanks in part to manufacturers' decision to hold back on price chops. The average selling price for LCD TVs even increased in July, as larger TVs and those with Internet and 3-D capabilities were added to the mix.
Prices finally starting to fall in August -- after this summer's World Cup proved to be a much smaller sales catalyst than TV makers had hoped.
"Manufacturers were playing a game of chicken, hoping demand would be there and reluctant to be the first one to let prices fall," said Paul Gagnon, director of TV research at DisplaySearch. "Only recently did they come to the shocking realization that prices needed to fall. That will have a good impact on holiday sales."
Like many consumers, flat-screen TV shoppers are becoming increasingly budget-conscious -- especially as the economy shows signs of slowing down.
But there is also evidence that consumers have pent-up demand for TVs. LED TVs, which use a different backlight technology than LCD TVs, were aggressively priced in the beginning of the year and actually sold better than expected, according to Sweta Dash, senior director of LCD Research at iSuppli.
Once big discounts start hitting retailers, demand for LCD TVs will jump up aggressively, Gagnon predicted.
But consumers should act fast. The supply chain is beginning to correct itself, iSuppli found. Those kinds of recalibrations generally take about three months to be realized at the retail level. That means prices will likely bottom out at the end of this year or the beginning of 2011.