Layaway goes luxe: Spread the payments without the interest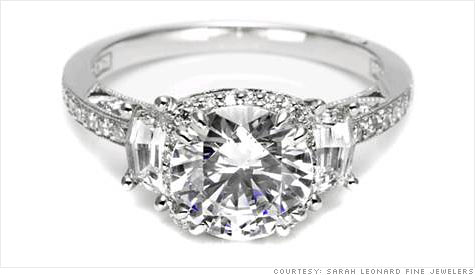 NEW YORK (CNNMoney.com) -- Can't afford that three-carat diamond right away? Consider layaway.
Layaway is no longer just for washing machines or winter coats. There are also plenty of luxury goods available with a few easy installments -- you just won't find them advertised in the Sunday circular.
"We don't specifically promote it," said Dean Abell, the vice president of Sarah Leonard Fine Jewelers in Los Angeles. But he often suggests a layaway plan for his clients, especially for purchases of engagement rings and wedding bands, which can cost up to $35,000.
"Even if people have the money, sometimes they will take advantage of that option to break up the payments without incurring credit card charges," Abell explained.
Plus, there are no interest charges or fees for the service, and the number of payments can be customized. Six months is standard, but with wedding bands, for example, the term is usually the length of the engagement.
"In the last couple of years it has emerged as a popular spending trend for consumers," said Kathy Grannis, a spokeswoman from the National Retail Federation. "With the change in the economy it is a very viable option for families that want to spread out their spending over the holiday season. Avoiding debt has been a big concern for consumers."
In fact, last year the number of consumers who planned to purchase holiday gifts with their credit card fell 10%, according to NRF's holiday consumer intentions and actions survey.
Although high-end department stores -- such as Saks, Bloomingdales and Neiman Marcus -- still shun the idea, big-box retailers -- such as Sears, K-Mart, Marshall's and Burlington Coat Factory -- are not shy about promoting layaway options to bring buyers back.
Now many small galleries, stores and boutiques also offer such payment plans.
At the Kittrell/Riffkind Art Glass Gallery in Dallas, customers can buy art on layaway if they request the deal. "We've been talking about it more when people are on the fence about a particular object," said gallery manager Sandra Outland. "It makes them reconsider the purchase; it makes it seem more obtainable."
Pieces valued at as much as $7,900 have been purchased on layaway at the gallery, and there is no fee for the service.
Many other galleries offer a similar service for their clientele when it comes to high-priced art. "We just wouldn't call it that" explains one New York City gallery director.
Realtor Eric Jolliff says he prefers using layaway for big ticket items, rather than a credit card. "I actually don't even own a credit card anymore," he said.
Jolliff is currently eyeing a $1,500 bicycle at a shop in St Louis, Mo. "This fall I will put it on layaway and get it out in the spring, just in time to ride."