Social gaming's surprising cash cows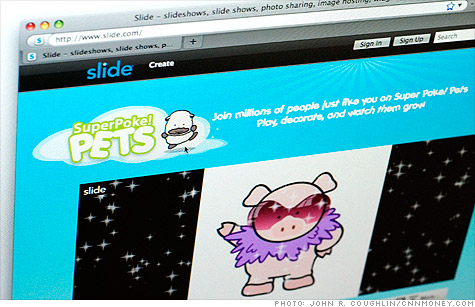 NEW YORK (CNNMoney.com) -- The stereotypical "gamer" is a teenage boy locked in his basement, playing World of Warcraft with a cube of Mountain Dew at his side. But games on social networks like Facebook have redefined the genre, and they're reaching previously untapped customers: Older women have become a key fan base.
They're logging onto sites like Facebook to play countless rounds of Zynga's FarmVille and CrowdStar's Happy Pets -- and game creators are racing to cash in.
"Social games are not really games in the traditional sense -- it's really more like entertainment," says Net Jacobsson, a former Facebook executive who is launching gaming company PlayHopper next month. "It's bringing in a whole new audience of gamers, from demographics we wouldn't expect. It is a potential cash machine."
A whopping 35% of those who play social games say they have never played any type of digital game before, according to an August report from research firm NPD Group. That's almost 20 million Americans who are new to the pastime.
A January study from Information Solutions Group, conducting research on behalf of Bejeweled publisher PopCap Games, looked at American and British social gamers. The average player? A 43-year-old woman.
The lure for new audiences: At first glance, many of the social games seem targeted at teen girls rather than their mothers. Bright colors abound, with sparkly animations and superfluous exclamation points. Games often revolve around mundane activities like raising cows and feeding pets, versus the shooting and blood found in the typical bestselling video game.
"These games tap into a nurturing aspect, and players receive small positive encouragements," Jacobsson says. "It's like Pavlov's dog -- if you get rewarded, you want to keep going."
Keith Rabois, executive vice president of strategy at app maker Slide, was surprised when his company's 2009 game SuperPoke! Pets found a big fan base among older women. But that audience turned out to be a lucrative one: SuperPoke! is free to download, but some decorations and virtual gifts are for sale.
"People want to look witty and cool on Facebook, even if it costs a little money," Rabois told CNNMoney last month, shortly before Slide was acquired by Google. "We give them the tools to do that."
Cashing in on Mom: Playfish, a developer that Electronic Arts (EA) acquired in 2009, has seen such a swarm of older players that the company is planning to digitize long-loved games like Monopoly to cater specifically to that demographic.
Older gamers tend to be the ones with money to spend -- and that makes them a prime target for game creators.
"Older women aren't the only ones paying to play, but they're definitely a significant component," says Tom Sarris, Playfish's director of global communications. "This social aspect has broadened the notion of gameplay, and developers have to respond to that."
Users willing to pay for social games are few and far between: Atul Bagga, an analyst at research firm Think Equity, estimates only about 1% to 3% of social gamers actually shell out cash.
That's in line with estimates from Zynga, the industry's current Goliath. The company finds that 3% to 5% of players are potential moneymakers, Zynga chief game designer Brian Reynolds said at an industry conference earlier this year.
But it's still early days for social gaming business models, and since most of the game makers are privately held, there's a fair bit of guesswork in analyzing the industry's revenue streams.
Even the companies themselves struggle with it. Alex St. John, a WildTangent founder and current president of gaming company hi5, has his doubts about the older-gamer trend.
"Children don't have their own credit cards -- of course they're using Mom's," St. John scoffs. "Companies are looking at the credit card data instead of who's actually playing the game. It's not an accurate metric."
St. John says his company sees a "pretty good mix along all ages" in the gaming market -- though women tend to lose interest in their 20s before resuming the habit again in their 30s.
When older gamers do pick up the habit, hi5 and its rivals are banking on them also reaching for their wallets.