Southwest to acquire AirTran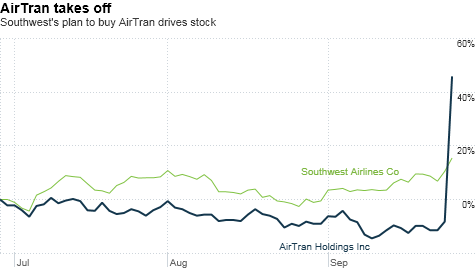 NEW YORK (CNNMoney.com) -- Southwest Airlines plans to acquire AirTran Holdings for $1.4 billion, the airlines said on Monday.
Southwest (LUV, Fortune 500) said the deal values AirTran at $7.69 per share, a 69% premium over AirTran's closing price of $4.55 on Friday. AirTran's (AAI) stock surged 62% to $7.24 at the start of trading, while Southwest rose 14%.
Southwest chief executive officer Gary Kelly said the deal will allow his airline to expand into airports serving major hubs like Atlanta, Washington D.C., Boston, Baltimore and New York City.
Southwest said the total deal, including AirTran's debt and aircraft operating leases, is valued at about $3.4 billion.
Both of the airlines serve domestic markets and present themselves as low-cost carriers. Kelly told CNNMoney.com that he plans to eventually expand into international markets, with flights to Mexico, Latin America, the Caribbean, Canada and possibly South America.
"It will be several years before you see Southwest airplanes in international markets, but it's going to happen," he said.
He said that a possible expansion into European and Asian markets is "down the road," but his airline does not currently have jets that can make those flights.
The deal has been approved by the board of directors of each airline, and is now contingent upon the approval of regulators and AirTran stockholders.
Southwest spokeswoman Brandy King said that once the merger goes through, all the airplanes would fly under the Southwest logo and adopt the Southwest policy on fees, which are less burdensome than most of its competitors.
For example, Southwest does not charge a fee for their first two checked bags, while AirTran charges coach travelers $20 for their first checked bag and $25 for the second.
King would not provide an estimate on when the deal is expected to be completed.
This is just the latest deal in an industry that has been consolidating. Several other airline stocks rose after the markets opened, including American Airlines (AMR, Fortune 500), Continental Airlines (CAL, Fortune 500), United Airlines (UAL), US Airways (LCC, Fortune 500) and JetBlue Airways (JBLU).
But shares of Delta Air Lines (DAL, Fortune 500), which would compete directly with the merged company at its Atlanta hub, fell 2%.
Stockholders approved a merger of United and Continental on Sept. 17 and that deal is expected to close by the end of the year. The combined company will fly under the logo of both United and Continental.
The airline will become the country's largest, surpassing Delta, which became the biggest when it merged with Northwest Airlines in 2008.