Surprise! Blue collar jobs are coming back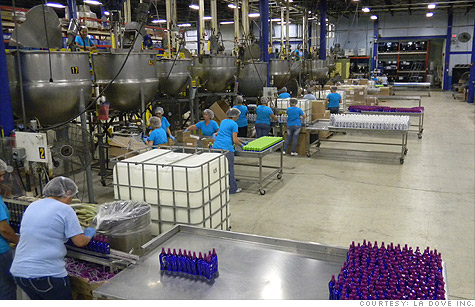 NEW YORK (CNNMoney.com) -- As the labor market continues to struggle, one surprising bright spot stands out amid the list of battered industries -- factory jobs.
Manufacturing employment began its decline long before the recession, losing jobs every year since 1998. But since the start of this year, there's been a 1.6% gain in manufacturing jobs -- about twice the pace of growth in other private sector jobs.
Even if manufacturing hiring stays flat the rest of this year, the industry is poised to post its biggest percentage gain in jobs since 1994.
"In 2008 and 2009, manufacturers would not hire," said Norbert Ore, head of the Institute for Supply Management's survey of manufacturers. "Today they're willing to fill openings, willing to hire. Here and there, they're adding a shift."
About 26% of manufacturing companies surveyed by ISM reported adding staff, compared to only 5% cutting workers. Only 13% of service sector employers said they were adding workers, while 18% are still cutting jobs. And the ISM index for manufacturing employment stands at a 35-year high.
Job placement firms say they're seeing more business from manufacturers as they ramp up production.
"Manufacturing is very robust for us right now," said Donna Carroll, vice president with Adecco. "Skilled machinists and machine operators in some places are getting tougher to come by."
Jeremy Grimm is one of those skilled workers. The 31-year old Canton, Ohio, resident was recently hired by The Timken Co.'s wheel bearing plant in his hometown. He had last worked in manufacturing 10 years ago, when he got laid off from a local steel fabricating plant.
"When I was a kid, that's all you had around here was manufacturing, but when I got laid off, I figured that was it, that it was gone for good from this part of the country," he said.
"But now factories around here seem to be booming again. Without a doubt, I think manufacturing is back."
Some factories are also recalling workers they had previously laid off. La Dove Inc., a hair care products maker based in Miami Lakes, Fla., is also hiring again.
"In the last two to three months we've seen a lot of new customer requests," said Mike Bass, executive vice president of La Dove. "We felt it was time to pick things up to get ready for the business that is coming."
Bass said when his company recently added almost 10% to its factory floor staff, many of those hired were former employees who'd been laid off during the recession.
"I think they were a little surprised, obviously very happy," he said.
Jobs coming back, but not fast enough
The unemployment rate for manufacturing workers has also shown much greater improvement than for workers overall, dropping to 9.5% in August from 13% in December. That compares to a far more modest improvement to 9.6% from 10% for the overall labor force.
"There was an idea out there that all the manufacturing jobs lost during the recession were gone and never coming back. That's not true," said Heidi Shierholz, labor economist for the Economic Policy Institute, a labor-supported think tank. "Once people started buying stuff again, some of them had to come back."
But manufacturing employment, like most sectors, still has a long way to go to fully recover from the anemic job losses caused by the recession, Shierholz said.
"It's not a surprise that manufacturing jobs are coming back faster than [jobs] in the overall economy," she said. "The disappointment is they should be coming back faster than they have."
But better times could be ahead.
Gains so far have been concentrated in four industries -- automotive, fabricated metals, primary metals and machinery -- said Dave Huether, chief economist for the National Association of Manufacturers.
He's forecasting that the recovery of demand will spread to other goods next year, with a corresponding improvement in hiring.
"Let's say we're up 160,000 manufacturing jobs this year. I think we'll have increases well more than double that for each of the next few years. We probably won't get back to pre-recession employment, but we'll get close."