HP CEO candidate hints about the job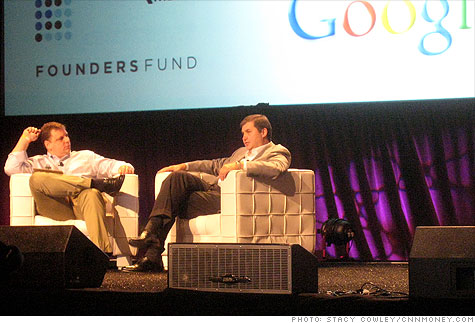 SAN FRANCISCO (CNNMoney.com) -- On Day 52 of HP CEO Watch, leading candidate Todd Bradley took the stage at a San Francisco tech gathering Monday and walked straight into a grilling on the state of HP's leadership hunt.
"So, you're the CEO of Hewlett-Packard, is that correct?" TechCrunch founder Michael Arrington asked the moment Bradley sat down for a chat at TechCrunch's Disrupt conference.
Bradley deflected the question with a laugh, sticking to the line that HP (HPQ, Fortune 500) has nothing to announce and that he remains "just an EVP" -- albeit one who runs a $42 billion business, HP's PC division.
HP won't be able to brush aside questions about its leadership much longer. The company is slated to meet with financial analysts on Tuesday, at which HP is widely expected to introduce its new CEO.
Insiders are rumored to have the edge, with Bradley and enterprise chief Ann Livermore mentioned frequently as the leading candidates.
Bradley's talk quickly hopped from CEO speculation to another much-buzzed-about topic: tablets. They'll soon be a $40 billion market, Bradley predicted, and HP would love to conquer "all of it."
Its weapon in the fight will be Web OS, the software HP snapped up earlier this year in its $1.2 billion acquisition of Palm. HP doesn't plan to license Web OS, preferring an Apple-like strategy of owning the hardware and software for its mobile devices -- and keeping them unique.
Bradley didn't comment on when HP will have its first Web OS tablets ready, but HP executives have hinted that they'll have something to show off in early 2011.
Arrington drew cheers from the audience when he hit Bradley with another loaded question: "Do you think it's ethically wrong to charge as much for ink as you do?" As applause broke out, Arrington added: "If you become CEO, will you right now pledge to cut what you charge for ink in half?"
Ink is HP's cash cow, driving most of the profits for the company's $24 billion printer division. "First off, you can ask me next year, if I take the position," Bradley responded.
Angels and demons
Earlier in the day at the TechCrunch conference, a high-profile showdown between Arrington and a gathering of Silicon Valley's leading angel investors ended in an anticlimactic fizzle.
In a blog post last week casually titled So A Blogger Walks Into A Bar..., Arrington accused the influential, insular angel crowd of holding secret dinner gatherings at which they colluded to keep down valuations and rig deals in entrepreneur-unfriendly ways.
That kicked off a war-of-words, with 500 Startups founder Dave McClure firing back a profanity-laced screed, SV Angel's Ron Conway dumping kerosene on the fire and Lowercase Capital's Chris Sacca racing to the cabal's defense.
All three of them joined Arrington onstage Monday at one of the show's opening panel discussions. But what attendees expected to be a heated exchange stayed determinedly lukewarm, with Sacca dismissing the battle as "a total waste of time" and Conway and McClure declining to elaborate on their earlier, e-mailed remarks. (McClure did editorialize a bit further through his t-shirt, which offered a snarky dismissal of the "AngelGate" affair.)
Steering clear of acrimony, other speakers at the event rolled out a steady stream of product launches and other initiatives.
LinkedIn founder and venture capitalist Reid Hoffman unveiled a new $20 million seed-stage investment fund, while Founders Fund investor Peter Thiel announced a new grant program offering up to $100,000 to teenage entrepreneurs willing to drop out of school to build new ventures. Over 20? Don't bother applying.
Thiel offered up the day's most talked-about sound bite with his observation that he thinks Facebook -- which some estimate to now be worth around $30 billion -- is the industry's most undervalued company.
"If you had a choice between Google and Facebook, you should be long Facebook," Thiel said. Of course, he has a vested interest. He's an investor in Facebook and sits on the company's board of directors.