Oprah's next act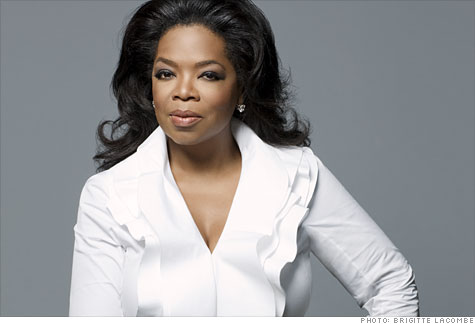 FORTUNE -- Oprah Winfrey was headed into her "la-di-da years" -- her term for semiretirement -- when David Zaslav came along and wrecked her grand plan. The queen of TV talk had never met the CEO of Discovery Communications until he arrived at her Chicago office in April 2007 with a proposition. "OWN: The Oprah Winfrey Network," Zaslav said, pitching the notion that they create a cable TV network together. "I don't want your money," he told her. "I want you."
Within months, Oprah had agreed to a fifty-fifty partnership in which Discovery (home of the Discovery Channel, TLC, and other nonfiction programming) would invest $100 million in the new network -- all about Oprah's mantra: "Live your best life." And indeed, she didn't put in a cent of her own money. Instead she contributed something far more valuable: her time and her brand.
There has never been anyone in media like Oprah. Part Johnny Carson, part Rupert Murdoch, part Anna Wintour, she is a TV legend, media mogul (No. 6 on our Most Powerful Women list), and tastemaker all rolled into one. The Oprah Winfrey Show, which she owns and which is seen in 146 countries, is the most successful daytime program in TV history, with 12.6 million viewers at its peak. It's the place where Facebook CEO Mark Zuckerberg announced he would donate $100 million to improve education in New Jersey; the same week, Bill Gates riffed about reforming education nationally. A mere mention on Oprah's show can catapult a book or hand cream or cupcake to bestseller status. Through Harpo Inc., her private holding company (2009 revenue: roughly $315 million), Oprah has created other living "brands" besides herself: Dr. Phil, Dr. Oz, and design expert Nate Berkus. "What Oprah has accomplished on air and off is truly mindboggling," says Jeff Zucker, CEO of NBC Universal, whose cable networks will compete with OWN. "It's hard to imagine that there will ever be anything close to that in media."
The initial deal between Discovery Communications and Oprah, she explained in a recent, exclusive interview with Fortune, required her to appear on OWN just 35 hours a year, and restricted her broadcast TV work. But after a quarter-century producing and starring in daytime TV's most lucrative syndicated show, she could live with that. Before Zaslav came into her life, "I was going to do a syndicated program à la The View and be on it two or three times a week," she tells me, lounging on a sofa in her cozy office, with 15 Emmy statuettes gleaming on a mantel above her. Her vision of her future: "La-di-da, I'll do a show and then I'll go have lunch with my lady friends in Santa Barbara."
So much for that life plan. OWN was announced in January 2008, and drama soon followed: The network lurched through two years of launch delays, management tumult, and internal confusion about what kinds of shows to do. What's never been revealed publicly, until now, is the extent to which Oprah struggled with her own commitment -- and how that struggle nearly scuttled the deal. In April of 2009, Zaslav returned to Chicago, hat in hand. "The world has changed," he told Oprah. Blaming the recession and the collapse of the TV ad market, he said he needed to alter the deal. "I need more of you," he said. Not only did Zaslav demand more Oprah on OWN, he insisted she leave broadcast TV entirely. "If you want to walk away from this, okay," he told her. "But if you're going to be in, you need to be all in." Recalls Oprah: "I wasn't pleased. I wasn't pleased at all."
Sometimes there is power in surrendering -- as Oprah has told many a tearful TV guest in the middle of some debilitating personal crisis. She says she weighed the options that Zaslav presented and asked herself, "Do I want to take on this level of responsibility?" But Oprah didn't get to be the most powerful woman in the media universe by saying no to opportunity. She agreed to increase her presence on OWN to 70 hours annually, from 35. In August, Discovery disclosed that it had sunk $89 million more into OWN, and that as part of her 70-hours-a-year pledge Oprah would host Oprah's Next Chapter, a globetrotting interview show. "So that's my all-in commitment," Oprah says, with a sense of relief. At least the woman knows her price.
Read the full version of Oprah's next act