Gold continues record-setting run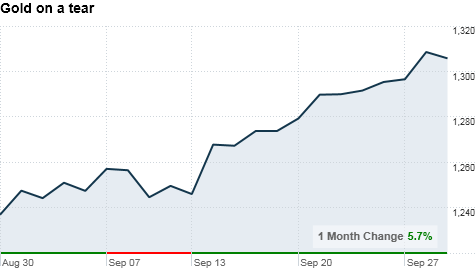 NEW YORK (CNNMoney.com) -- Gold extended its record-breaking streak Wednesday, as investors continue to scoop up the precious metal amid fears about the economy.
Gold futures for December delivery, the most active contract, rose $6.50 to $1,314.80 an ounce in global trading, surpassing its previous intra-day trading high of $1,311.80 reached Tuesday.
Gold also settled at the record high of $1,310.30 per ounce, $2 higher than the prior record, set on Tuesday.
A falling dollar and mixed economic reports that suggest the recovery is sluggish at best have recently boosted the safe-haven appeal of the precious metal. Gold is up 5.9% this month and has surged nearly 32% year-over-year.
Lending to gold's rally, investors expect the Federal Reserve to buy more U.S. Treasurys in November in a move to stimulate the economy. That act, referred to as quantitative easing, would drive U.S. yields down and make Treasurys and the dollar less attractive safe-haven investments.
At the same time, cost-cutting measures implemented by governments around the world to narrow their fiscal deficits are expected to eat into growth, said Kathy Lien, director of currency research at Global Forex Trading.
"So with the Fed easing monetary policy and growth expected to slow in Europe, investors are not left with many alternatives except for gold," she said in a research note.
Despite the record, gold is still far from its real peak, as measured in dollars adjusted for inflation.
After the Iran hostage crisis and ahead of the Soviet Union invasion of Afghanistan, gold prices hit their true peak on Jan. 21, 1980, when a settlement of $825.50 an ounce translated into an all-time peak of $2,163.62 an ounce in 2009 dollars.