BP shakes up management in wake of spill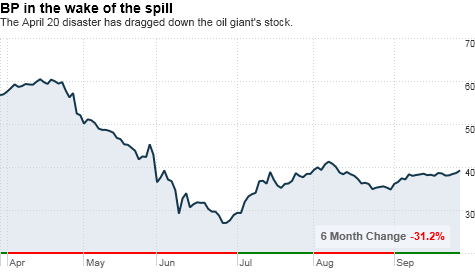 NEW YORK (CNNMoney.com) -- BP announced a management shake-up Wednesday in the wake of the Gulf oil spill, including the creation of a new unit to manage safety and operational risk and the departure of an executive in its exploration and production unit.
The company said the new safety and operational risk unit will have "sweeping powers to oversee and audit the company's operations around the world."
The unit will be led by Mark Bly, who was already head of BP's safety and operational integrity division and ran the company's internal investigation into the Deepwater Horizon disaster.
Bly will report directly to Bob Dudley, the American-born successor to the beleaguered Tony Hayward as BP's chief executive. Dudley officially takes over on Friday.
BP also said that Andy Inglis will no longer run the oil company's upstream division, which focuses on exploration and production. Inglis will step down as the main board director on Oct. 31 and will leave BP at the end of the year.
The upstream unit will be restructured into three units, led by vice presidents: Michael Daly in charge of exploration, Bernard Looney in charge of development and Bob Fryar in charge of production. They will work with Andy Hopwood, who is becoming executive vice president in charge of strategy and integration, and will report directly to Dudley.
The shake-up is part of the British oil giant's effort to reorganize after the Deepwater Horizon rig exploded and sank off Louisiana on April 20, killing 11 workers and fouling the coastline in nearby states.
The company would not reveal the fate of Doug Suttles, chief operating officer for exploration.
"His position will be subject to a different announcement," said BP spokesman Robert Wine. "I would be surprised if it happened today."
BP's (BP) stock rose more than 1% after the opening bell.