How to score an upgrade: Air, car, hotel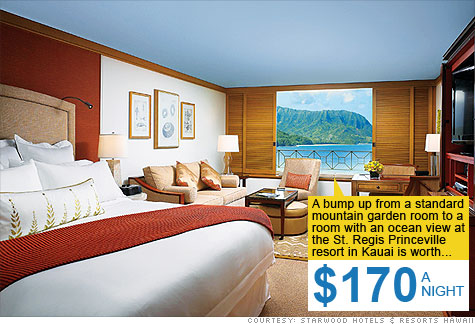 (MONEY Magazine) -- Remember when getting a free travel upgrade was as easy as walking up to the counter with your biggest smile?
Now that airlines have pared back flights, and rental car agencies have slimmed fleets, it's a lot harder to get a better seat or nicer wheels for no extra cash. (On the plus side, you've still got a good shot at a sweet hotel suite.)
Money asked frequent travelers and people with upgrade-granting power for the secret to moving up in style without moving up in price.
On the Airplane
What it's worth. The upgrade from coach to first class on a United Airlines flight from Chicago to L.A. is worth $977.
Your odds: One in 100. With fewer flights, passenger loads are at an all-time high. "Discretionary upgrades are harder to get than ever," says Tim Winship of FrequentFlier.com.
How to improve them:
Pick your plane wisely. Passengers on certain Boeing 757s (with 26 first-class seats to 158 in coach) have a better shot than those on an Airbus 320 (12 first-class, 126 coach). Check out a plane's layout at seatguru.com.
Scope out the cabin. The more empty seats in first, the better your chances of landing one. To suss out the load, go to the airline website just before check-in, start to book a business-class ticket, and click "view seat map," says John DiScala of JohnnyJet.com.
Ask at the right time. The best day for upgrades is Saturdays; fewer elite travelers fly then, says Matt Daimler of SeatGuru.com. Go to the agent and say something like: "If you need to bump people from coach to first, please consider me. I'm low maintenance -- and my back is killing me."
At the Hotel
What it's worth. The upgrade from a standard room to a deluxe room at the Hilton New York in Manhattan is worth $85 a night.
Your odds: One in five. Good news for you: Occupancy rates for the first half of 2010 were estimated at a dismal 56% (down from 63% in '07), reports Smith Travel Research.
How to improve them:
Stay at business hotels on weekends. At the Omni Los Angeles, for instance, you can improve your upgrade chances by staying Thursday to Sunday vs. midweek, according to managing director Bob Graney.
Ask multiple times. Use the special-requests box on an online reservation, call the hotel directly, and talk to the desk clerk at check-in, says Julie Torres, head of front-office operations at Hilton New York. Say, "We're here celebrating [special event]. Any chance of an upgrade?"
Check in late. Most guests show up around 3 p.m., so arrive after 7, when the front desk knows which rooms are left, says Diana Su, who does PR for Starwood in Hawaii.
At the Car Counter
What it's worth. The upgrade from a compact to midsize car, via Hertz at the Los Angeles airport is worth $42 a week.
Your odds: One in 20. Many agencies cut fleets in 2008 and 2009, making upgrades less common.
How to improve them:
Choose the right car. If a company runs out of the vehicle class you reserved, it'll likely upgrade you. Book a midsize car -- it's most in demand, says rental consultant Neil Abrams.
Reserve at the right time. "Friday nights and Monday mornings are peak pickup times," says L.A. Hertz agent Berry Ross. That means there's less chance the car class you specify will be available.
Look for special offers on the agency's site, on your credit card site, or on coupon pages like retailmenot.com. One example: a free upgrade at Alamo for compact to midsize cars until Dec. 31 (code: AU2729MJW).