HP CEO Apotheker nabs rich compensation deal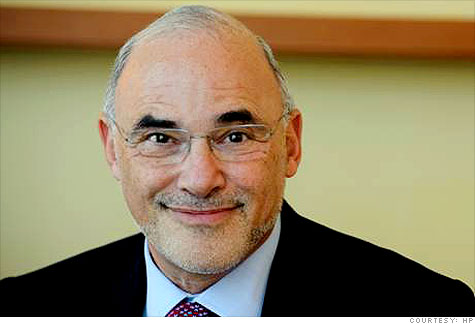 NEW YORK (CNNMoney.com) -- Léo Apotheker was the only person offered the CEO job at Hewlett-Packard, company leaders said Friday in a press conference to discuss their surprising choice.
HP ended two months of speculation on Thursday when it announced that Apotheker, the former CEO of business software firm SAP (SAP), will take the helm beginning November 1.
"Our board of directors cast the net very far and very wide both internally and externally," Bob Ryan, the lead independent director of HP's board, said on the call. "We ended up with six people who could have done the job."
In the end, the board unanimously chose to offer the job to Apotheker, Ryan said.
Apotheker will receive an annual salary of $1.2 million, plus a $4 million signing bonus and an additional $4.6 million for relocation assistance and to offset payments from SAP that Apotheker forfeits by taking the new job, HP said. He's also eligible for a cash bonus of $6 million next year.
Apotheker will also collect a boatload of HP stock. He'll receive 156,000 shares of HP, vesting over the next two years, as long as he remains employed with the company over that time period. He'll also have the opportunity to earn up to 728,000 shares of stock, vesting over the next three years, as a bonus for hitting performance targets.
All totaled, Apotheker's hiring agreement with HP gives him the opportunity to collect cash and stock compensation over the next three years worth up to $53 million, based on HP's closing stock price on Thursday.
Former CEO Mark Hurd received a $1.4 million annual salary and a $2 million signing bonus when he was hired in 2005, plus a $2.8 million relocation package. Including perks and stock, HP valued Hurd's total compensation package last yest at $30.3 million.
Todd Bradley, executive vice president of HP's personal systems group, and Ann Livermore, the head of the company's enterprise business, were widely considered to be among the leading contenders for the open CEO spot.
Hurd resigned from his position as HP's CEO and chairman of the board on Aug. 6 after the company said that he submitted false expense reports to hide a relationship with a marketing contractor.
Cathie Lesjak, HP's chief financial officer, had been acting as interim CEO. She took herself out of the running for the permanent CEO position.
"My heart is in being a CFO, and my family and I are pleased I'm going back to that," Lesjak said. "I have never felt more confident about our business."
Apotheker said HP is "undervalued" and can compete in several areas. It already has a "lock" on the hardware market, and should pay more attention to software, he said.
"Software is the glue," Apotheker said. "It's how we can make sure that the various parts of our technology work together."
The search took almost two months -- about as long as HP took to replace former CEO Carly Fiorina, who was forced out by HP's board in 2005 after a rocky tenure.
Apotheker, 57, comes with his own checkered past. He served for a short time as CEO and for many years in other top roles at SAP, which is struggling to hold its market share against onslaughts from Oracle (ORCL, Fortune 500) and IBM (IBM, Fortune 500). After more than two decades at SAP, Apotheker was ousted in 2009.
In early trading on Friday, shares were HP (HPQ, Fortune 500) were down 2.6%, at $40.96.