McDonald's health insurance plans: Not lovin' it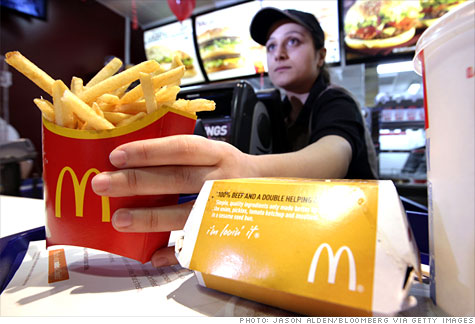 FORTUNE -- Last week McDonald's insisted that it wasn't planning to drop the bare-bones health insurance that it offers its hourly employees. But maybe it should -- this is some pretty terrible insurance coverage.
The Wall Street Journal reported on Thursday that McDonald's (MCD, Fortune 500) had warned federal regulators that its insurance carrier might be forced to drop the coverage next year because it won't meet a requirement of the health care reform law. Many other media outlets then picked up the story but, along with the Journal itself, oversimplified it, saying that McDonald's was being forced to drop coverage for 30,000 workers because of health care reform.
Indeed, the Patient Protection and Affordable Care Act requires that insurers spend 80% to 85% of premium revenue on medical care, as opposed to administrative costs and marketing. McDonald's told the Department of Health and Human Services that its insurer, BCS Insurance Group, would drop coverage once the requirement kicked in.
After the story made the rounds, both the government and McDonald's downplayed the case by indicating that the insurance most likely wouldn't actually be dropped.
Some commenters, mainly of the right-wing and firebreathing variety, mischaracterized the situation as evidence of flaws in "Obamacare." They almost universally ignored the appalling level of coverage offered by McDonald's "mini-med" insurance plan.
"This is radically inferior coverage," says Alan Sager, professor of health policy and management at Boston University. "It's unacceptably inadequate."
The most affordable plan at McDonald's charges hourly workers about $14 a week, which comes to $727.48 annually. In return, they get $2,000 worth of coverage per year. If they step on a nail or come down with the flu, they might be covered, but the costs paid by the insurer may not even equal their premiums. If they are diagnosed with cancer, or even appendicitis, they are as vulnerable as someone with no insurance at all.
The "best" plan of the bunch costs $1,680 a year and caps benefits at $10,000. But for outpatient treatment (which often means the emergency room), benefits are capped at $2,000. A trip to the emergency room can zoom past that level in a matter of minutes.
McDonald's declined to comment for this article. BCS Insurance Group did not respond to requests for comment.
Sen. John D. Rockefeller (D-W.Va.) wrote a letter to BCS CEO Scott Beacham asking for details of the McDonald's plan. He stated that he's concerned that workers are "setting aside portions of their paychecks for an insurance product that may not be providing them a good value."
"Mini-medical," or "limited-benefit" plans like this have been around for more than a decade and have risen in popularity in recent years as health care costs have soared out of control. As of a couple of years ago, sales of such plans were growing at a clip of about 20% annually, largely among small businesses. But they're increasingly popular at bigger companies that employ a lot of hourly, low-wage workers, such as McDonald's, Sears Holdings, and Lowe's. Estimates of how many people are insured by such plans range between 1.4 million and 2 million.
Such insurance is "really just a way to fleece low-wage workers," according to Henry Fernandez, a senior fellow at the Center for American Progress.
That's probably true to a point, but it's not the whole story, according to Sager of Boston University. McDonald's is "sitting in a big hole, but they didn't dig it," he says. The company might have simply determined that there was no affordable way to provide its high-turnover staff with comprehensive insurance, so it did what it felt it could.
Or perhaps McDonald's simply wanted to appear to be offering a benefit, when it's really no benefit at all. (And it will be able to keep doing so: Today, the Obama administration announced the McDonald's plan got the waiver it had requested to continue operating, as did several other large employers.)
The insurance companies that offer such plans tend to sell them on "affordability" alone. "By offering limited benefits," says Aetna's web page, "we can keep the premiums affordable." It doesn't say much about the low level of benefits that come with "affordable" premiums.
For employers, such plans "can help reduce the costs associated with turnover while offering coverage to an employee population that might otherwise be without health care coverage," according to Aetna's FAQ page.
A few years ago, Aetna was more direct. "There is a wide array of benefits available, and many of them promote a perception of value that far exceeds cost," the FAQ page once stated. After being criticized (and sued), Aetna changed the language in 2006 to remove any hint that it was merely selling the "perception" of insurance.
But that's what Aetna, Cigna, BCS, and other insurers are still selling. "It's a way to offer the appearance of health coverage, Sager says, "but it doesn't even begin to address the kind of catastrophic events that health insurance is supposed to cover." Workers who buy such insurance, he says, probably don't realize how limited the benefits are. Or else they buy it because "they believe that buying health insurance is the right thing to do."
Says Sager: "If I were a McDonald's worker, would I buy this? No."