Four-door Smart car coming to the U.S.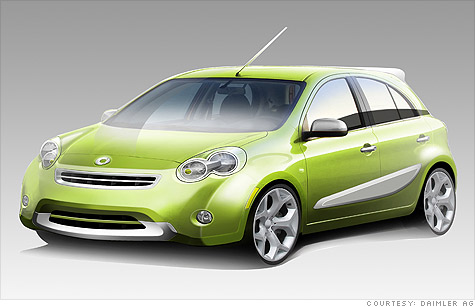 NEW YORK (CNNMoney.com) -- Smart USA, the company that sells the tiny Smart ForTwo in the United States, is working on an agreement with Nissan's North American arm to produce a bigger four-door car for sale here late next year.
"The new vehicle will expand Smart USA's product lineup, offering five-seat capacity while maintaining the core principles of efficiency and conservation," said Smart USA President Jill Lajdziak.
The new car will be a four-door hatchback. Smart USA released a sketch of the car, but no details about its exact size or technical specifications. The car will be available with either an automatic or manual transmission, Lajdziak said. Smart's only current product, the two-seat ForTwo, is available only with an automatic transmission.
Smart USA will work with Nissan on designing the car, Lajdziak said, which will be built by Nissan based on an existing Nissan small car. It will be sold only in the U.S.
Smart USA, which imports and sells Smart cars made by Diamler, is owned by the Penske Automotive Group (PAG, Fortune 500).
The agreement between Smart USA and Nissan is separate from the partnership announced earlier this year between Daimler and Nissan/Renault to create new products.
Smart USA could have waited for something to come out of that arrangement Lajdziak said, but the U.S. distributor wanted to move faster.
"This gave us the opportunity to bring something to the market in the near term," she said.
This would not be the first four-door car sold under the Smart brand, which used to sell a model called the ForFour in Europe.
This new car will not be called the ForFour, Lajdziak said. A name for the car will be announced later.
The Smart brand's 2008 entry into the U.S. market has, so far, resulted in disappointing sales.
Despite fuel economy of over 40 miles per gallon on the highway, and ease of parking -- the ForTwo can fit nose-to-the-curb in a space designed for parallel parking -- Smart sales peaked early, then plunged. So far in 2010, sales are running more than 60% below 2009. That year was one of the worst for auto sales.
Falling gas prices have been part of the problem, Lajdjiak said. When Smart first came to the U.S. gas prices were over $4 a gallon. They're now averaging about $2.75 a gallon, according to AAA.