Why Stanford predicts a decline in MBA applications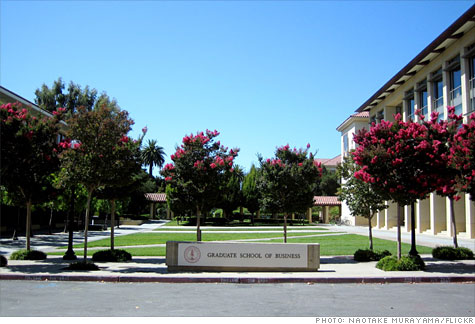 (poetsandquants.com) -- The phones in Stanford University's Business School admissions office aren't ringing as often as they did. The number of applicants showing up at the school's information sessions around the world is down as well. For Derrick Bolton, who racked up 240,000 miles of flying last year as director of admissions, it has meant an even heavier schedule than usual to drum up interest.
"I don't think it's going to be a great year for applications," he says. "There is so much negativity out there about the MBA right now."
Bolton thinks the low application numbers are partly due to the blame that has been placed on business schools for the global economic crisis, along with the bleak job market for MBAs, which has led to lower starting salaries and fewer job offers.
But the key issue, he thinks, is that business is suffering something of a backlash. "If you look at Meg Whitman's campaign for governor of California or Carly Fiorina's campaign for the Senate, all the negative ads about them are anti-business," he says. "It's all about how they outsourced jobs, took big pay packages, and then laid off a lot of staff. People are getting vilified for that."
Bolton is the gatekeeper for the world's most selective MBA program. Last year, Stanford received more than 19 applications for every one of its 390 seats for this fall's incoming class. All told, only 6.5% of the 7,536 applicants for the Class of 2011 were accepted.
Those students have median GMAT scores of 730 out of 800, the highest reported average of any school in the world (Harvard is six points lower at 724).
Stanford's round one admissions deadline is today and Bolton is expecting the competition to lighten this year. When all is said and done, he believes applications to the best business schools could fall by as much as 10% this year -- not that it's likely to have much impact on Stanford, given its admissions standards.
Keeping the numbers under wraps
In a wide-ranging interview on Stanford's campus, Bolton says that he has been putting more emphasis on applicants' undergraduate academic records, that as many as one in four MBA students are now pursuing joint degrees with other university schools, and that 10% of the school's incoming class were applicants whose admission had been deferred a couple of years ago.
He also disputed estimates that as many as half of Stanford's applicants are using consultants. "If I believe that estimate, I would just start charging $2,000 per application and give them consulting services myself," he says. "Why would I let that margin slip away?"
Bolton could just as easily come off as a CIA officer in Islamabad. He weaves and bobs his way around questions, often reluctant to surrender what you might consider harmless details, including his age.
Unlike many administrators at the school, Bolton has no résumé or biography on Stanford's website. Why? "It's not about me," he says plainly. "The more people try to get into my head, the more of a disservice they do to themselves."
When you ask Bolton how often he reverses a decision by his admissions team, he says: "It would be a number." And when you ask how many of the 389 students in the class of 2012 have GMAT scores below 700, he says, "We report the things that we report."
Pressed, he still declines an answer.
"One question," he explains, "just leads to another question which leads to another question. There is no end to this. We'll be asked, 'How many marketers who are Portuguese who studied architecture in undergrad and live in Minneapolis are there in the class?' There is a lot of information that applicants want that has no value to them in the process."
For the record, Bolton got his MBA from Stanford in 1998 after a stint as a junior consultant with McKinsey & Co. He did a summer internship with Goldman Sachs (GS, Fortune 500) in 1997 before joining Goldman in New York after he finished business school. He returned to Stanford for the admissions job, just before Sept. 11, 2001.
The importance of the GPA
So in the nine years that Bolton has led admissions at Stanford, how has it changed? Bolton says that undergraduate GPAs get more attention. That shift is partly a reflection of Garth Saloner, an economist who has taught Stanford since 1990 and recently succeeded Robert Joss, a former banking executive, as dean. "Garth tilts more toward intellect and Bob tilted more toward leadership potential," Bolton says.
More Stanford business school students are opting for joint degree programs in law, medicine, bioengineering, and public policy. "We went from two joint programs to six and nearly 20% to 25% of our students are in them," he says. "I wouldn't be surprised if in a decade, it's half of our student body. They believe that an MBA or another graduate degree is not enough."
To compete for the best and brightest who might otherwise be lured toward medical, law or engineering schools, Stanford looked at creating a program to attract undergraduate students at the same time that Harvard Business School launched its 2+2 program, which accepts undergrads and then defers their admission for two years until entering Harvard's two-year program. Instead, Stanford decided to increase its deferrals. This year, he says, roughly 10% of the incoming class was actually admitted two or more years ago. "I just felt they are going to be in the same classroom, so there shouldn't be a different standard for them," Bolton adds.
Bolton thinks there is a lot of information in the marketplace that misleads candidates. As an example, he notes that he recently downloaded an application from one GMAT test prep company that purports to help candidates narrow down their selection of schools based on criteria like GPA, GMAT score, work and leadership experience.
Bolton plugged in his 3.7 GPA, his two years at McKinsey, his GMAT score, and other requested data. The program told him the best he could do was Northwestern University's Kellogg School of Management. If there was an iPad and an app when he applied to business school in 1995, he might never have applied to Stanford -- and his life would have been very different.