Facebook unveils new Groups tool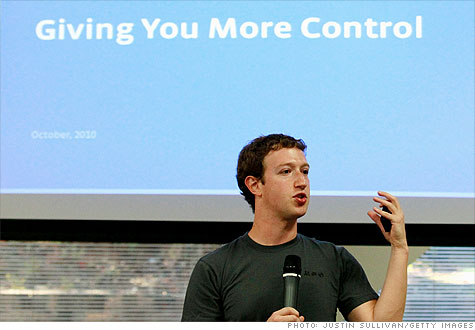 PALO ALTO, Calif. (CNNMoney.com) -- Facebook unveiled three new features on Wednesday to give users better tools for communicating with sheltered groups and increased control over the information that they share on the social network.
"Until today, we've made it pretty easy to share with everyone on the site publicly," said Mark Zuckerberg, Facebook's CEO. "But for a lot of people, just your friends isn't actually private."
One new feature, called Groups, allows users to target their updates to specific sets of friends, without posting the information to everyone in their network.
Facebook created what it called "a social solution" to the problem. Users can create groups on the fly, similarly to how they tag photos on Facebook, and other group members can add additional friends.
"Sometimes you don't want to post something to all of your friends, not because you don't want them to know, but because you don't want to annoy them," Zuckerberg at a press gathering at Facebook's headquarters in Palo Alto, Calif. "The naive solution is to do something like friend lists. Almost no one wants to make lists."
Users can manually create friends' list subsets on Facebook today, but Zuckerberg said that fewer than 5% of the site's users have done that.
Instead, Facebook's new Groups approach will mimic its photo system.
"The majority of Facebook users do not upload photos -- but 95% have a photo of them that they've let users tag," Zuckerberg said.
Another new Facebook application, called "Download Your Information," allows Facebook's 500 million users to export all of the personal information that they upload to Facebook to a file on their computer. The app lets Facebook users port their information to another social network or simply browse everything that has been uploaded to their online profiles, including photos, status updates and wall posts.
"Philosophically, that's a core thing that people want from Facebook," Zuckerberg said. "People want to be able to easily take their information to another service and do that in safe way."
Facebook also introduced "Dashboard," which gives users the ability to see all of the apps that they use on one page. Dashboard can help users to monitor and manage all of their Facebook tools, including adjusting the privacy settings and deleting unwanted apps.
Both new features are very similar to privacy functions that Google added in 2009.
The new features will begin rolling out Wednesday, and Zuckerberg said more product updates will be released soon. Facebook employees have been in "lockdown mode" for the last two months, cranking out a blizzard of across-the-board enhancements.
"We just wanted to double down," Zuckerberg said. "We had a really productive summer improving the quality of a lot of things we've been working on."