September store sales top expectations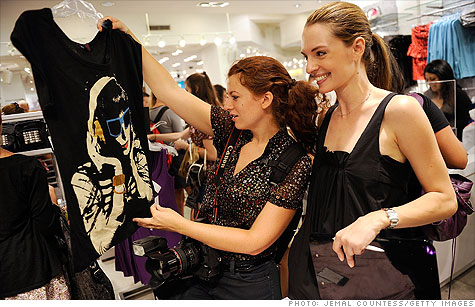 NEW YORK (CNNMoney.com) -- Retailers on Thursday reported strong sales results for September, as shoppers loaded up on discounted items amid the still-struggling economy.
Thomson Reuters, which tracks same-store sales for a group of 28 national chains, said total sales for the group rose 2.8% in September -- better than its initial forecast of a 2.1% gain in the month. Sales were up 3.2% in August.
Same-store sales rose 0.6% in September 2009, which marked the first increase after a prolonged period of declines.
An important gauge of a retailer's health, same-store sales measure sales at stores that have been open for at least a year. They have been on the rise for 13 months in a row, according to Thomson Reuters.
Overall, nearly three quarters of the retailers in the survey reported sales that beat analysts' expectations.
Jharonne Martis, a Thomson Reuters analyst, said back-to-school shopping helped support sales in the first part of September. But heavy rains in the Northeast hurt sales in the second half of the month, she added.
Looking ahead, Martis said sales could soften in October, as consumers take a breather between the back-to-school shopping period and the holiday spending frenzy.
Holiday forecast: The strong sales growth last month raised expectations for the all-important holiday shopping season, when retailers make the bulk of their profits. But analysts warned that discounts and incentives were behind the improvement in sales, suggesting that consumers remain reluctant to splurge.
"It's not like consumers are going out and spending freely," said Scott Hoyt, retail economist at Moody's Economy.com. "Sales are still weak compared to pre-recession levels."
Economists pay close attention to retail sales data, because consumer spending is the main driver of economic activity in the United States. But with unemployment hovering just below 10% nationwide -- many consumers remain focused on paying off debt and saving money, rather than spending on discretionary items.
Still, the National Retail Federation said Wednesday that it expects holiday retail sales to increase 2.3% this year to $447.1 billion. That would be an improvement from last year's 0.4% rise, but is still below the 10-year average holiday sales increase of 2.5%.
The NRF said it expects retailers to offer "significant promotions" throughout the holidays, to entice recession-weary consumers who are eager for bargains.
"Discounts are necessary to lure consumers," said Martis. "The recession taught consumers to look for bargains."
Retailers are hoping discounts will boost traffic, and that consumers will pick up some full-priced merchandise along with the discounted items. But the strategy could weigh on profit margins for some stores, she added.
A study by management consulting firm Accenture released Wednesday showed how hungry consumers are for bargains this holiday season.
According to the group's holiday shopping survey, more than three quarters of consumers will not make a purchase this holiday season without a discount of at least 20%. One quarter said that they will be expecting a discount of 50% or more in order to buy.
Discounters lag
Back-to-school spending boosted sales at teen-oriented retailers last month, while some high-end stores also benefited.
Sales at Zumiez (ZUMZ), a teen-oriented sports apparel company, surged 17% in September over the month before. Abercrombie & Fitch (ANF) reported a 13% jump in September sales.
Limited Brands (LTD, Fortune 500), the parent company of Victoria's Secret and other intimate apparel stores, reported a robust 12% increase.
But The Gap (GPS, Fortune 500) bucked the trend, as sales fell a combined 2% last month at the brands under the company's management.
Meanwhile, luxury retailers Saks and Nordstrom also reported sales that were stronger than expected.
Saks (SKS) posted a 6.5% jump in sales, topping the 3.8% forecast. Sales at Nordstrom (JWN, Fortune 500) were up 7.5%, compared with an expected 4.3% gain.
Discount retailers reported sales that largely missed analysts' expectations.
Target (TGT, Fortune 500) reported a 1.3% sales gain for September, versus a predicted 1.9% rise. Sales increased 1.5% at BJ's Wholesale (BJ, Fortune 500), weaker than the expected 2.1% rise.