Earn a cool 4% - without a ton of risk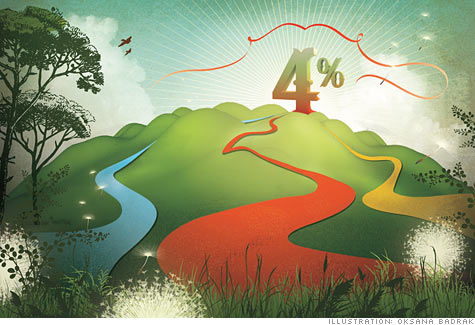 (MONEY Magazine) -- Whether you want income to help you cover your expenses in retirement or to help protect your portfolio from losses as you save for the day you quit working for good, you're not getting any help from the usual places these days.
Pessimism about the economy and a headlong flight to safety by investors have pushed down yields on traditional savings vehicles to barely-there levels. Cash is a joke: Rates on bank money-market accounts and short-term CDs average less than 0.5%, and money funds yield a microscopic 0.04%.
Meanwhile, rates on Treasuries are close to the record lows hit during the worst of the financial crisis; even 10-year notes will nab you only 2.5%. And the dividend yield on the typical stock is just 2%, nearly half its historical average.
So how would you like to earn a cool 4% -- or more -- on your money? And how would you like to do it without taking on tons of risk or tying your savings up forever?
Yes, you really can get there from here, as long as you're willing to follow a less traditional investment path, combining high-quality dividend-paying stocks, corporate and foreign debt, and perhaps even an annuity to reach your goal.
"You have to be more creative today to get to 4% than you used to be," says Richard Whitney, director of T. Rowe Price's asset-allocation group. "But while a 4% yield is challenging in this environment, it's definitely not impossible."
Why make 4% your target?
Because 4% is a magic number of sorts in the annals of retirement investing. When you're still in the building phase, 4% is the number you need to beat inflation over the long term (average rise in the cost of living since 1914: 3.4%).
And once you're ready to retire, it's the number that financial advisers recommend should guide your portfolio withdrawals. If you start retirement by pulling out a modest 4%, and then adjust those withdrawals annually for inflation, you'll have a very good shot at making your money last your lifetime.
Mind you, getting to 4% these days isn't risk-free. Corporate and foreign bond prices have risen sharply over the past year, posing the possibility that the run-up could run out of steam. And if stock prices tumble, returns on high-dividend payers could be squashed as well.
Here are three strategies to help you minimize the danger of losses by building on a foundation of safe investments, then simply juicing up yields around the edges of your portfolio. Retirement paradise ought to be worth a few calculated risks.