Pay for 8 years of college on 1 salary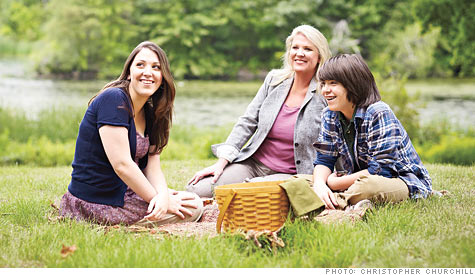 (MONEY Magazine) -- Amy Mulkern is facing a stark financial reality: Starting next fall, she'll be on the hook for eight consecutive years of college tuition for her two kids, now 13 and 17.
Mulkern, 45 and divorced, has been diligently socking away cash for college. Even so, "being a single parent is daunting," she says. "I certainly don't have eight years of tuition sitting in an account."
She has around $48,500, and though her ex contributes $1,100 a year to the kids' 529s, he won't be able to help otherwise with costs.
Mulkern's older child, Michelle, is considering both private colleges costing $50,000 a year and public ones running $21,000.
Amy earns a comfortable salary as HR director of a manufacturing firm, but even so, Michelle may still be eligible for grants, depending on the school and the way Amy spends down college savings.
"The more efficiently she navigates these education expenses," says Nashua, N.H., financial planner Peter Canniff, "the more resources she'll have left for retirement."
Her goals
Pay as much of her kids' college bills as possible without sacrificing retirement
Pay off her mortgage early to free up cash
Her assets
$237,000 in retirement plans
$33,290 for her daughter's college, $15,240 for her son (in savings bonds, savings accounts, and 529s in their names)
$20,000 in cash for emergencies
The solution
1. Spend the kids' assets first. Aid offices assess money in a student's name at 20%, vs. up to 6% for a parent's money. So Amy should spend her kids' savings accounts and bonds before the 529s the latter is typically considered a parental asset.
2. Pay off the mortgage. Amy's aiming to erase this five years early, in 2012 during Michelle's second year. Genius, Canniff says. She'll free up $20,000 a year for tuition, $100,000 she won't have to borrow.
3. Borrow wisely. At 6.8%, federal Stafford loans, which are in the student's name, are the best deal. So Amy should take these on Michelle's behalf -- she can borrow $5,500 for freshman year -- before assuming parent PLUS loans at 7.9%.