JPMorgan Chase reports $4.4 billion profit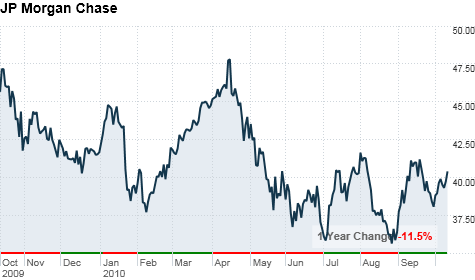 NEW YORK (CNNMoney.com) -- JPMorgan Chase said it earned $4.4 billion during the third quarter on Wednesday, an increase of 23% from a year ago, as loan loss reserves continued to decline.
The first of the nation's big banks to report results, JPMorgan (JPM, Fortune 500) said it earned $1.01 per share. Analysts polled by Thomson Reuters were expecting the New York City-based bank to earn 90 cents a share during the three-month period ended September 30.
The provision for credit losses, the funds set aside for the allowance of bad loans, was reduced to was $3.2 billion, down 67% from a year ago.
"We are pleased to report a continued overall decline in credit costs, although our mortgage and credit card portfolios continued to bear very high net charge-offs," said chief executive Jamie Dimon in a statement.
The leaner stockpile of reserves allowed JPMorgan to post higher profits for its credit card and commercial banking businesses compared to a year ago and the prior quarter. Sales volume in the bank's card services division was up 7%, while the commercial banking unit reported record revenue of $1.5 billion.
Though the company's investment banking profits were down 33% from a year ago, Dimon called the unit's results "solid."
Dimon was cautiously optimistic about the outlook for the economy and the bank though. He said the bank is committed to supporting an economic recovery, and is on track to hire over 10,000 people in the United States this year.
During a call with investors, Dimon said it is still "reasonably hopeful" that the bank will reinstate its quarterly dividend during the first quarter of 2011.
JPMorgan's results come as it and a number of other banks in the mortgage servicing business investigate the possible mishandling of foreclosures, and the results include the bank's move to add $1.3 billion to its reserve for legal costs and $1 billion to its reserves for mortgage repurchases.
JPMorgan's chief financial officer Douglas Braunstein said the bank is reviewing about 115,000 foreclosure cases across 41 states, including the 23 states that require a judge to sign off on a foreclosure.
"It will take several weeks to go through the files and correct any errors, but we believe the underlying facts are accurate," Dimon added. "We don't think there have been any cases where people were evicted out of their homes when they shouldn't have been."
But that was not enough to relieve investors, who weighed the better-than-expected profit with the bank's decision to add to its reserves. JPMorgan's stock was flat in late-morning trading.
"Banks are facing death by a thousand cuts," said Paul Miller, analyst at FBR Capital Markets & Co. "If it's not foreclosure fraud, its the Dodd-Frank bill, the new Basel rulings or the Durbin amendment, and the 10-year yield at 2.4%. Banks just can't seem to catch a break."
The rest of the banking sector is on tap to report earnings next week. Citigroup (C, Fortune 500) kicks things off Monday, and Bank of America (BAC, Fortune 500), Goldman Sachs (GS, Fortune 500), Morgan Stanley (MS, Fortune 500) and Wells Fargo (WFC, Fortune 500) are all slated to report later in the week.